Los Angeles is a vibrant and highly diverse city and so are the endless opportunities for shopping. If you said goodbye to fast fashion though and want to shop more eco-friendly, check out this conscious shopping guide. Find out where to find sustainable fashion in Los Angeles. The city has lots to offer for ethical and eco-conscious consumers.
I gotta be honest – I love fashion. Making the transition from conventional fast fashion to buying ethical clothes wasn't easy. Five years ago many sustainable fashion brands didn't exactly offer what I would call fashionable. Plus the different pricing definitely can be an issue. Caring for the environment we live in and getting aware of the horrible conditions workers in the fast fashion industry are exposed to, as well as changing my consumer habits, was more of a necessity rather than a decision.
Where to easily find sustainable fashion in Los Angeles
It definitely takes some time and adjustment to change the ways you consume. But digging a little deeper into the issue, I quickly realized that buying ethical fashion isn't a limitation at all. Not only is Los Angeles my favorite city on earth, it is also home to my dearest places to shop sustainable fashion.
1. My favorite ethical fashion stores in Los Angeles
Not too long ago, in August 2020, Los Angeles became the largest fair trade city in North America. If you care about ethical production and sustainable materials, there are plenty of fair fashion brands and stores in Los Angeles that will make your eco-loving heart beat faster. Here are my two favorite fair fashion brands with stores located in the city. Because let's face it: walking into a store and actually trying on pieces before buying them, is so much more fun.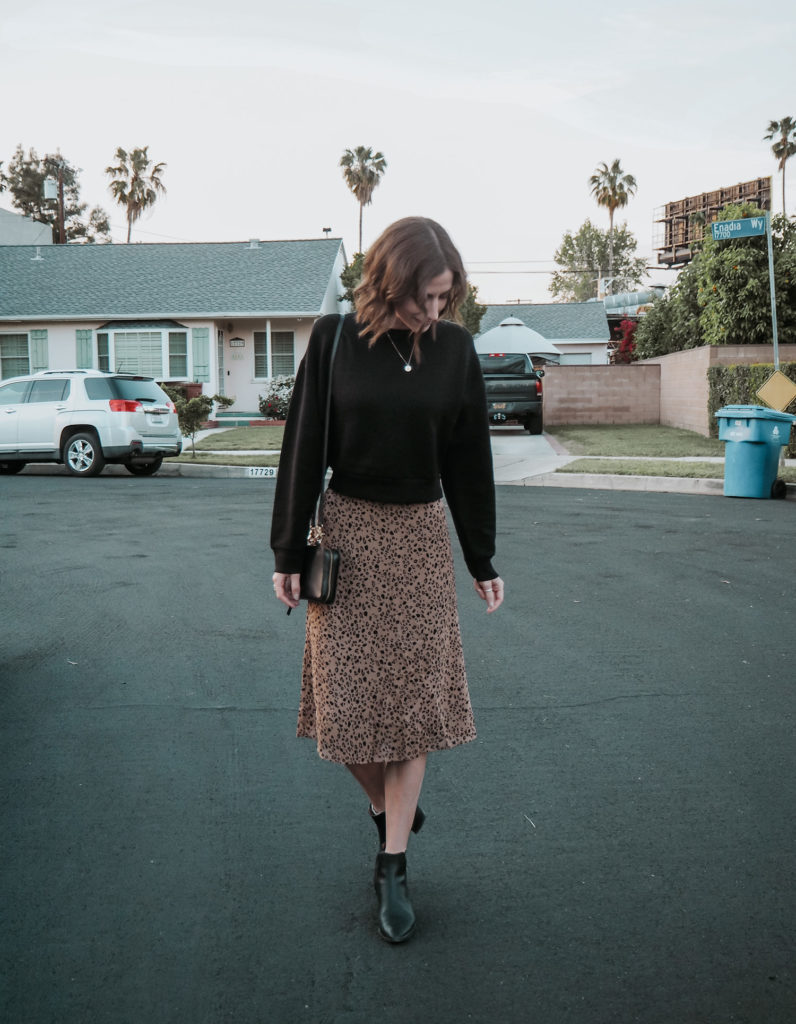 When I was new to shopping fair fashion and rather frustrated by the limited selection that only offered either outdoorsy knitwear or casual streetstyles, Reformation was a heavenly discovery.
I'm all for the minimal look. But, I also love feminine and playful styles, especially when it comes to my summer wardrobe or special occasions. Reformation offers exactly that.
There are four stores all spread around the city, so far I only visited the one on Melrose Avenue. The stores a more like showrooms, presenting a sample piece of each garment.
Whatever you feel like trying on, you put it into your virtual shopping cart via one of the tablets you'll find on the counters. Just wait a few minutes and, if available (this can be an issue), all pieces are waiting for you in one of the fitting rooms. The clothes are definitely rather pricey. I only own a few of their pieces, but I totally love the quality and style.
If you're looking for some dreamy boho fashion, I can highly recommend a visit to this small boutique on Lincoln Boulevard in Venice. All the garments, from floral dresses and jumpsuits to cozy knitwear, are made in LA from deadstock fabric (leftovers from major fashion houses). The pieces are timeless and versatile which makes them extra sustainable, as you can basically wear them for years. Instead of mass production, the collections are rather small and handsewn, by seamstresses earning fair wages and receiving health benefits.
2. Fancy Thrift Shops
The most sustainable way to shop clothes is buying second hand. Preloved garments are already out there. By buying these pieces rather than new ones, you extend their life cycle and avoid the environmental impact the production of new clothes makes.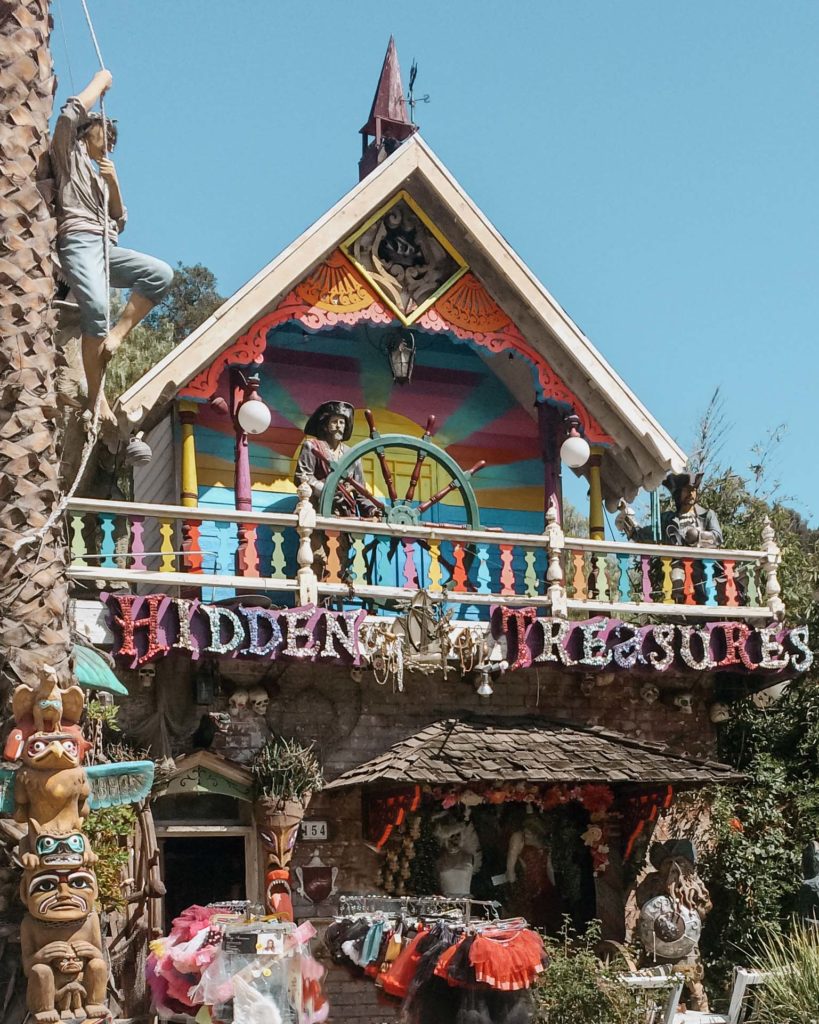 It is also a very affordable way to shop ethical clothes. While I sometimes have some trouble finding second hand pieces I love in the city I live in, Los Angeles is thrift-paradise to me. Since there is so much quality shopping in LA, it is super easy to find amazing second hand and vintage fashion all around town. My favorite thrift stores are Crossroads and Hidden Treasures.
Quirky and fun, not only on the outside, Hidden Treasures lives up to its name. Located in Topanga canyon, the store is a must-visit for vintage lovers.
I usually stop by while I'm on my way to Malibu for a quick trip to the beach. Walking through the store feels like exploring a topsy-turvy house with fancy and unique pieces in every corner.
Even if you don't end up buying something (which I hardly doubt), rummaging around this lovely store is still worth it and an experience in itself.
Hands down, Crossroads Trading in Studio City (there are 7 more locations in LA) is my favorite address for thrifting. Never have I left this store without buying a new favorite piece. The shop might not look all appealing at a first glance, but you should give it a go nevertheless.
The selection is big and the clothes are organized well. Take your time to rummage and I am sure you'll find pieces you'll love. Quality and pricing is decent and fair, from trendy brands to designer fashion. Whenever I'm in Los Angeles, I try to go more than just once. There are new clothes added to the racks frequently.
Last time I spent about 100 Dollars and happily left with two timeless black silk blouses by Helmut lang and J.Crew, a pretty Alice+Olivia summer dress and a stylish Lulus' two-piece.
3. Must-Visit Flea Markets – a great resource for sustainable fashion in Los Angeles
My slow fashion guide to Los Angeles wouldn't be complete without mentioning the number one place to go for some decent second hand shopping. I guess there's not one vintage lover out there, who doesn't enjoy a stroll around a well selected flea market. Well, at least I do. I don't even have to actually buy stuff to have fun visiting.
The only downside might be that you're totally dependent on the weather conditions. Shopping outside really sucks if it's rainy and cold. Luckily, this rarely ever becomes an issue in LA . This is one of the many things I love so dearly about this city. If you have some free time on a sunday, here are two of my favorite places to go.
I love the Melrose Trading Post. Every sunday, the flea market offers a curated selection of handcrafted artisan goods, vintage fashion, furniture and many more unique treasures. Located on the Fairfax High School parking lot, the market is not huge, but the selection of vendors is amazing.
You can easily spend your sunday morning roaming around checking out the vendors, grabing some food or a coffee and enjoying the live music around you. The entrance fee of 5$ is totally affordable. You'll support youth and education at the Fairfax High School. So, what you're waiting for, plan your visit!
Way bigger than the Melrose Trading Post and happening only once a month, the Rose Bowl Flea Market in Pasadena is really fun to visit. To see everything you should definitely take the whole day or as long as your feet may support you.
With almost 2.500 vendors each time, there's so much to explore. While there is some fashion sold, the focus lies on pretty vintage furniture and interiors. I guess this is the biggest flea market I've ever been too. The vendors are very unique and offer great quality. If I'd live in LA, I'd probably visit the market every month.
There's a lot of sustainable fashion to discover in Los Angeles
This slow fashion guide is all but complete. These are simply my favorite addresses to find beautiful sustainable fashion in Los Angeles. The list could actually go on and on, which is really great. If you're interested in seeing more, just let me know in the comments below. There definitely is more than I presented here. I might even do a full list to give you a broader overview on where to shop while keeping your eco-conscience clear.