We all love to travel, right? Being mindful of the environmental impacts, I try to be a more sustainable traveller, by designing my trips as eco-friendly as possible. Paying attention to what we pack in our luggage is definitely worth it then, because some travel essentials are more sustainable than others. By simply adjusting our habits, we can actually make a difference. Let's take a look at some game-changing eco-friendly travel products that make your travels way more sustainable.
Eco-Friendly Travel Products to Pack in Your Suitcase
Many of the following products and tips are eco-friendly alternatives that help you travel guilt-free, but they can also be a great start in developing a more sustainable lifestyle altogether as you can perfectly use them at home.
1. Reusable Water Bottles & Cups
Constantly buying new bottles of water is not only impractical and expensive, it also has a huge environmental impact, especially if you keep buying plastic bottles.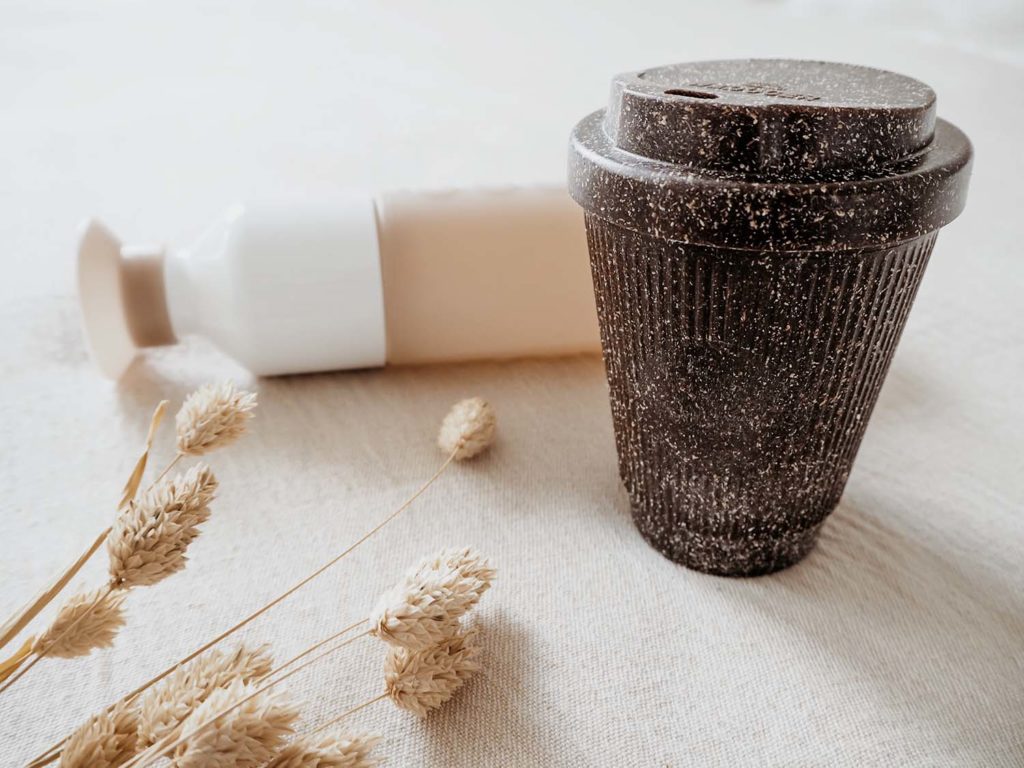 Ditching your habit of buying bottled water is one of the easiest ways to reduce waste and plastic pollution while traveling. Bring a reusable water bottle and simply refill it whenever you get the chance. It's great for the environment, your health and your wallet. Depending on where you travel, it is absolutely no problem to simply drink water from tap. Just inform yourself on that matter before you go on your trip. If there is no clean drinking water accessible you can just bring along a stash of purification pills. You simply add them to the water you want to drink and they dissolve bacteria and toxins.
When choosing your reusable water bottle just consider what's important to you. If you want to avoid plastics all along you should go for a stainless steel bottle. They are lighter and safer to carry around compared to glass bottles and sometimes they can even insulate your drinks and keep them hot or cold.
And talking about reusables. If you're a coffee (or tea) junkie like me, never ever order your drink in a single-use "to-go" cup. And if you do order to-go: There are amazing refillable cups available as well. Just like your water bottle, you can carry these along in your backpack or purse.
Favorite Eco-Friendly Products:
Reusable Water Bottles: Dopper offer bottles in all sizes, colors and materials and they are super affordable
Refillable Cups: Kaffeeform is a lovely business from Berlin. They make reusable coffee cups from coffee grounds. The cups look (and smell) amazing and the coffee tastes great.
2. Food Container and Reusable Cutlery
As eco-conscious travelers we want to reduce our ecological footprint as much as possible. Many times when we order food and grab some snacks to take away, they are wrapped in plastics or other disposable packaging. A very sustainable solution to avoid these disposables and therefore reduce waste, is to carry reusable food container and cutlery along with you. Quickly rinse and wash them after you eat and you can use them many, many times. I often bring along food I prepared at home to take it on the road or use these containers to store leftovers.
Favorite Eco-Friendly Products:
Stainless Steel Container: Eco-Brotbox offers boxes in all sizes and shapes. Perfect for traveling and storage at home.
3. Organic and Cruelty-Free Cosmetics
Shower gel, shampoo, toothpaste etc. in small and oh so convenient travel sizes are popular and we probably all bought them at some point. While traveling we all try to keep the toiletries and cosmetics we pack to a minimum. After all, we do need to save space and weight, right?!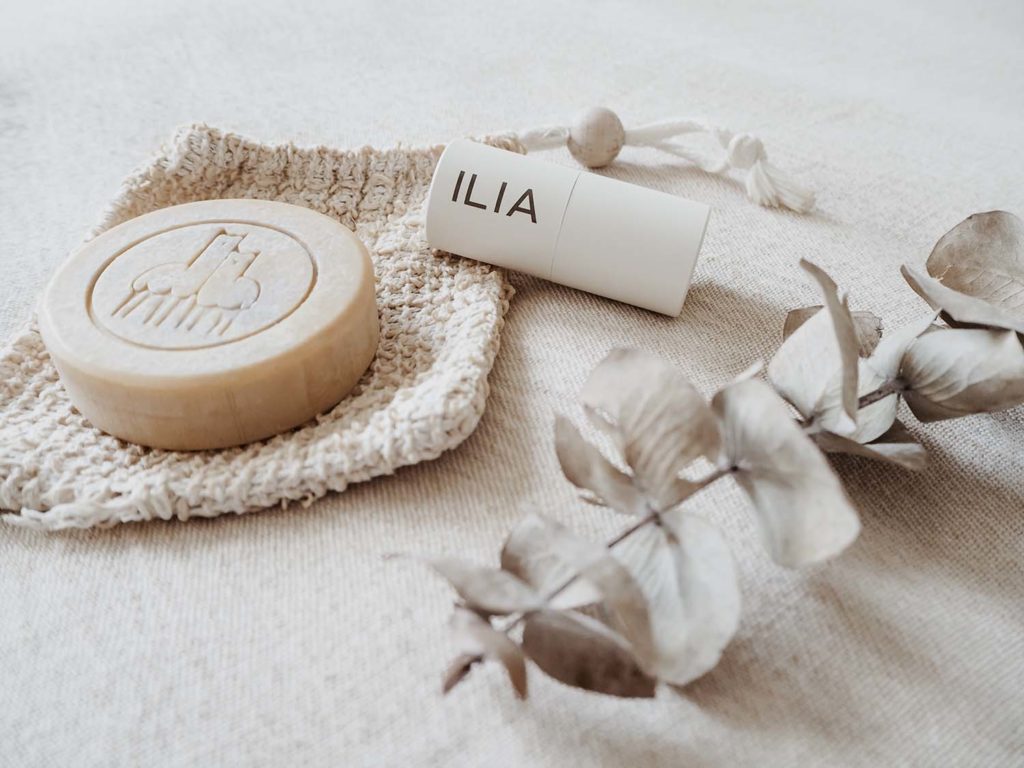 If we want to reduce plastic and waste in general we should definitely change this habit though. Soap and shampoo bars are a great alternative. They aren't necessarily more expensive nor are they any heavier. Just store them in a small box or sack and you're good to go.
Switching from your regular plastic to a degradable bamboo toothbrush and investing in a little stash of toothbrush tablets, you're traveling entirely plastic-free.
And if you never ever leave home without a few makeup essentials, let me tell you that there are some pretty great sustainable options out there as well. It is 2021, we don't need beauty products tested on animals that are full of chemicals and toxins, when there are clean, cruelty-free and organic alternatives available (I'll list my favorite 3 brands below).
One of my favorite sustainable swaps ever is ditching single-use makeup wipes by simply using a washable facecloth, water and a few drops of jojoba-oil. These easily fit in every bag, nourish your skin and save you so many dollars in the long run.
Favorite Eco-Friendly Products:
Makeup: Ilia Beauty, Madara and RMS
Choosing eco-friendly travel products is an easy step to reduce the environmental impact of your trips! What's in your suitcase?