Endless open roads, Martian landscapes and desert cities worth exploring. If you feel like hitting the road, the Southwest is a great destination to start. Travel the Southwest on an epic road trip. Wondering where to go and what to see? Here's the itinerary you'll need for an amazing Southwest road trip.
How to plan your Southwest Road Trip – A few side notes
There are endless opportunities to plan and take your road trip through the Southwest. For us, the ultimate goal was to finally visit White Sands National Monument in New Mexico. This place had been sitting on my bucket list for a while, so we simply built our trip around it. We started out in Los Angeles and returned there to spend another week in the city. This is usually the place we fly into, as we have close friends living there and simply love the area. That way we also got a great combination of a few relaxing beach days and amazing desert explorations.
To truly explore the whole beauty of the Southwest you can take weeks or even months. This road trip itinerary will lead you through some of the most iconic places in the Southwest and even offers some time to explore a few less known places. Take as much time as you need (or can get). Full disclosure, driving this distance in only a couple of days definitely requires compromises. You won't get to see it all! But I'll assure you, you want to go back as soon as possible.
Also: We're vegans, so most of the restaurants I list here are either entirely plant based, offer vegan options or are at least vegan friendly.
When should you take your Southwest Road Trip?
You can definitely do this Southwest road trip any time of the year. I've been to the desert in spring, summer and fall. Every season is special and I'm still dreaming about spending a winter in the desert. Especially, if you plan on hiking a lot, you should consider to go on this trip in spring or fall rather than during the hot summer months.
Personally, I love the desert in spring. The temperatures are very moderate, it's warm and sunny and the desert starts to bloom. Also, it's often not as crowded as during the summer, when everyone is taking their summer breaks.
Let's Go: My Southwest Road Trip Itinerary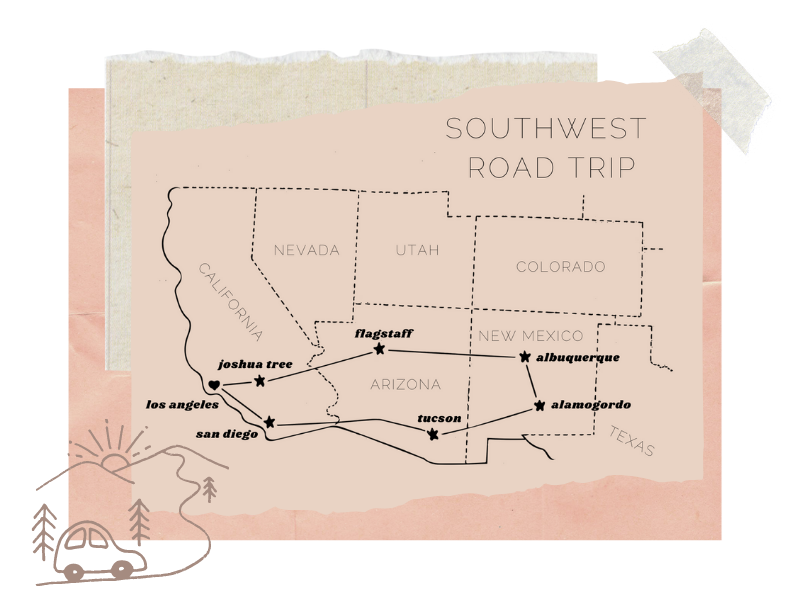 PART 1: Los Angeles
Take your time to explore Los Angeles. Simply enjoy a day at the beach, soaking up some sunshine or dive into the buzzing city life.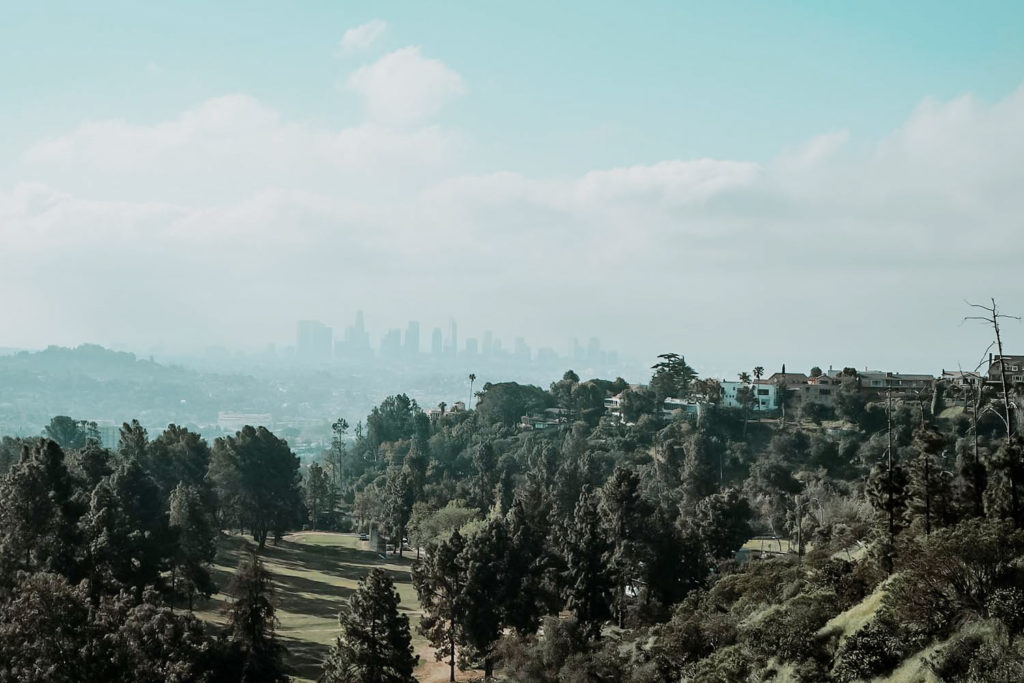 Make sure you won't spend too much time stuck in traffic and pick one part of LA you want to see most. If you feel like combining a few hours at the beach with some laid back city vibes, drive south and explore Santa Monica and Venice Beach. To check out Hollywood and dive into the vibrant city life, downtown is where you should be heading instead.
One of my favorite areas is East LA, especially Los Feliz, Silverlake and Echo Park. This part of town is perfect to catch some vibrant LA vibes. Echo Park is an easygoing, diverse neighborhood that's still more or less a hidden gem, as it is not touristy at all. It is a pretty walkable area with many parks and a cute lake right in the center. It is a different kind of LA from what you're usually seeing on screen and that's exactly why you shouldn't miss out on it.
Stay:
East LA offers a lot stylish and cozy Airbnb apartments or single rooms you can rent out for a night.
Eat/Drink:
Breakfast/Lunch/Coffee – Honey Hi, Echo Park
All Vegan lunch/dinner – Sage Vegan Bistro, Echo Park and 3+ locations
For more tipps on food and drinks check out my vegan food guide to Los Angeles
Explore:
Echo Park Lake
Griffith Observatory & Griffith Park (amazing skyline views day and night)
Go on an ethical shopping journey and explore unique sustainable fashion shops
PART 2: La Jolla + San Diego
Start driving down to San Diego, with a stop in La Jolla
Distance: 120 miles ~ 2 hours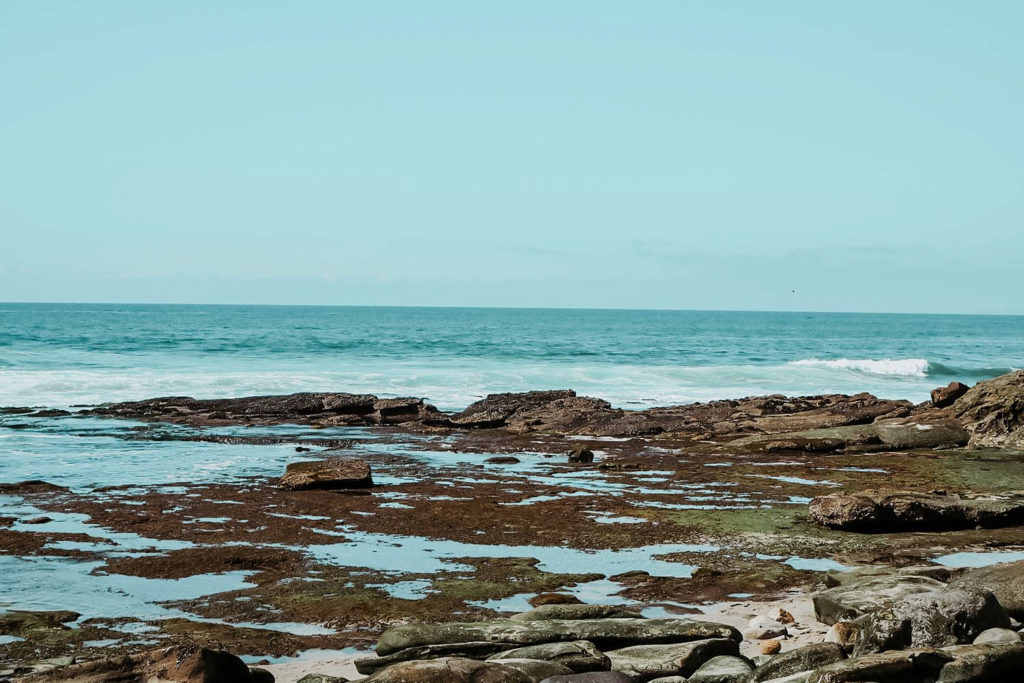 Driving down Interstate 5 you should make a stop in La Jolla just a few miles north of San Diego. Grab a coffee and observe the cute sea lions bathing in the sun by the beach.
In San Diego you can take your time to explore. The city is way smaller and a lot less overwhelming than LA. There's a special charm about San Diego. It's laid back, artsy, creative and of course sunny. One of my favorite areas is North Park. It is a super vibrant, walkable neighborhood with cute vintage shops, great vegan food and coffee places and lots of arts and culture.
If you need some time to recharge and love botanics, don't miss out on Balboa Park. The area is huge and you could easily spend an entire day here. If you can find the time you should also take the drive over the Bay Bridge to Coronado. It's a beautiful Island just a few miles from downtown San Diego. Perfect for a beach day and to enjoy some skyline views (especially by night).
Stay:
North Park Casita AirBnB
Eat/Drink:
Breakfast/Coffee – Communal Coffee, North Park
Dinner/Bar – Tribute Pizza (highly recommended)
Explore:
North Park
Balboa Park
Coronado Island
Old Town San Diego
Part 3: Tucson and Desert View Tower
Get up early and hit the I-8 east to Tucson, with a stop at the Desert View Tower Jacumba
Distance: 407 miles ~ 6 hours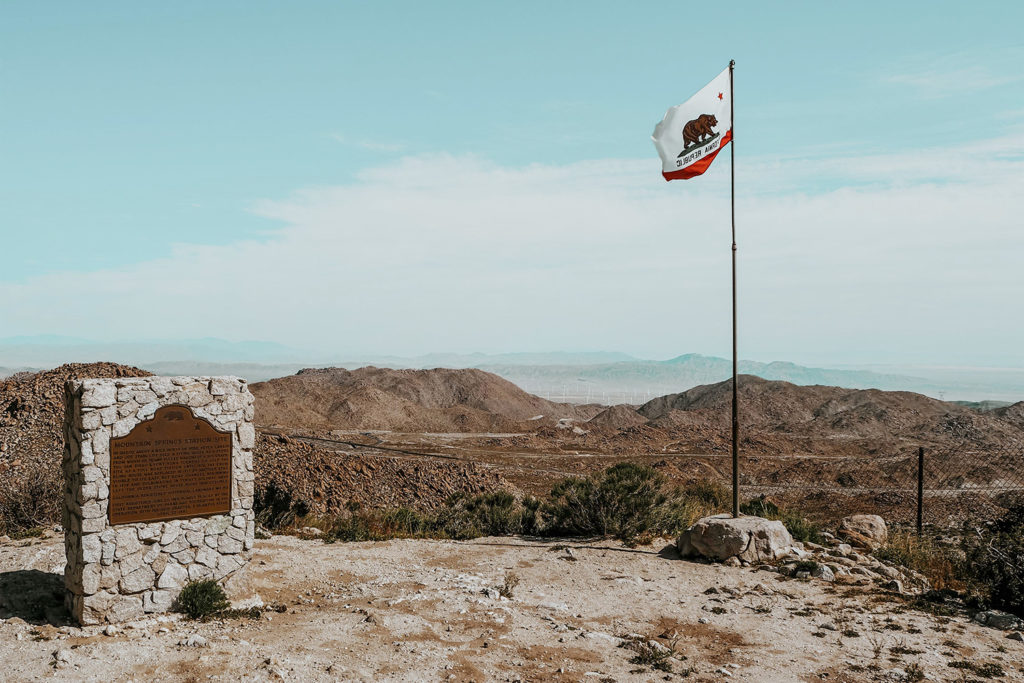 The drive from San Diego to Tucson is pretty long but scenic. As soon as you're past the California borders the southwest road trip begins and you'll be driving down endless stretches of desert. To enjoy magnificent views over California, Arizona and even Mexico stop by the Desert View Tower in Jacumba. The tower is located on a hill, so don't be surprised by strong, cold winds once you leave the car.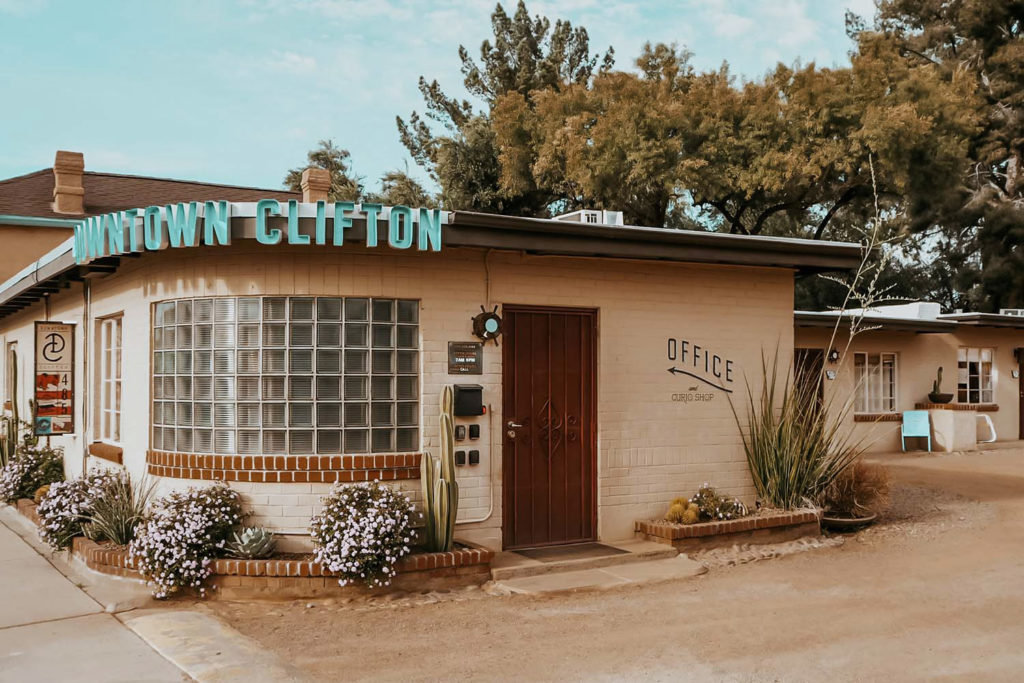 Our stay in Tucson was short, so it didn't leave us much time to see all of the city. We stayed in a cute motel downtown. From there we were able to walk and explore downtown and the historic fourth avenue, I highly recommend visiting.
Stay:
The Downtown Clifton, Motel in Downtown Tucson
Eat/Drink:
Breakfast – 5 Points Market and Restaurant
Dinner/Bar – O'Malleys Bar and Grill
Explore:
Mission San Xavier Del Bac
Mercado San Augustin
Part 4: Saguaro National Park
Take at least a day to visit and enjoy Saguaro National Park
Distance: 14 miles ~ 20 minutes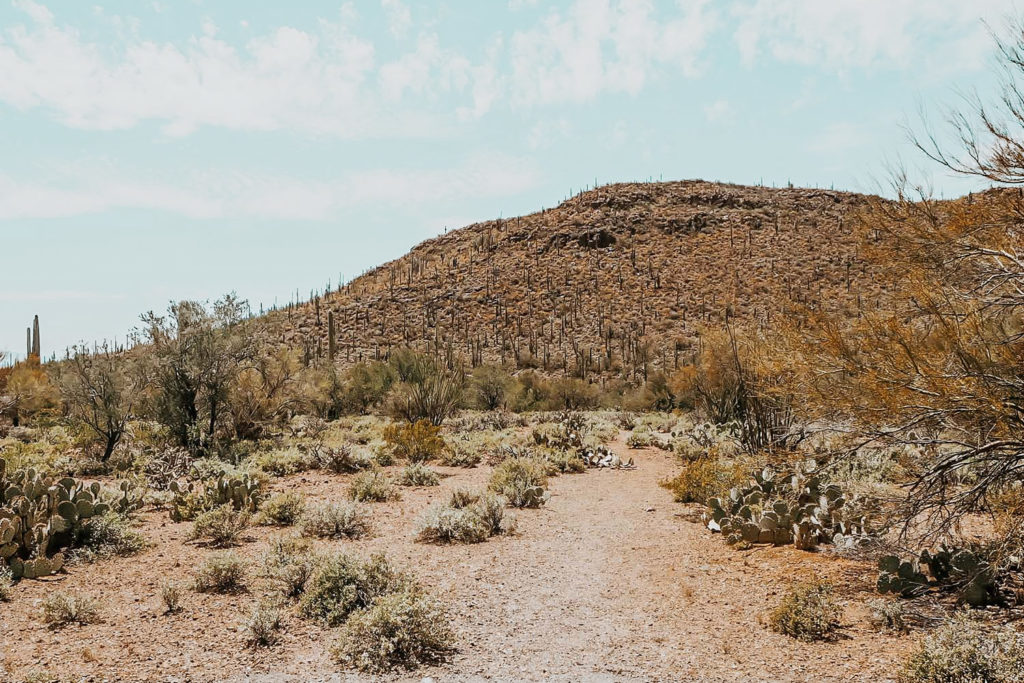 The landscapes of the American Southwest are breathtaking and unique. Deciding which National Parks to visit and which ones to leave on your bucket list is tough. As the Saguaro Cactus is the icon of the Southwest, a stop by the Saguaro National Park is a must on every Southwest road trip in my opinion. Looking at one of these giant Cacti is impressive, imagine seeing thousands.
We decided to check out the Arizona-Sonora Desert Museum which is located inside the National Park. For all the desert plant lovers out there, I'd recommend to do the same. It's a natural history museum, as well as a botanical garden and zoo. If you're into desert plants and wildlife as much as I am, you will probably have lots of fun here.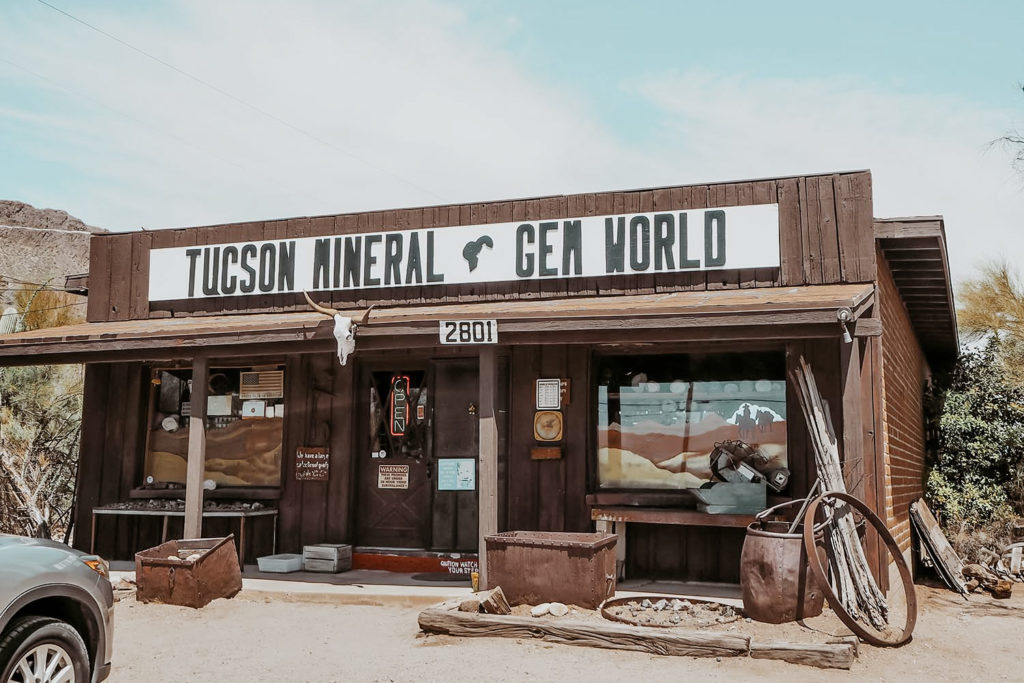 Tip: Do you love crystals and gems? Stop by the Tucson Mineral and Gem World, a quirky shop run by the friendliest, most helpful people.
Part 5: Las Cruces + White Sands National Monument
You'll be leaving Arizona (for now) and drive further east to Las Cruces, New Mexico to visit White Sands National Monument. Make sure to drive this stretch as long as the sun's up, the landscape is stunning and you wouldn't wanna miss this view.
Distance: 276 miles ~ 4 hours (to Las Cruces) + 50 miles ~ 1 hour (to White Sands)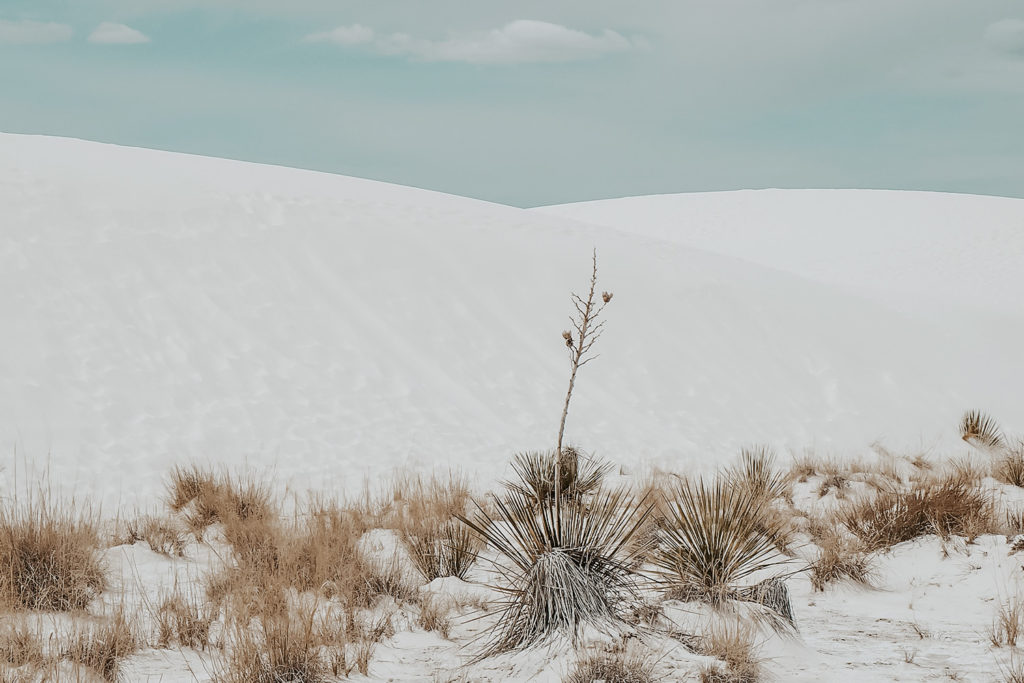 White Sands National Monument is one of the most magical places I've ever seen. These sand dunes are mesmerizing – Pure, fine white Sand (that's actually gipsum) as far as the eye can see. Take in the magnificent views and enjoy the complete silence around. White Sands National Monument is way more than just a beautiful landscape, it is a magical experience.
Stay:
Hilton Garden Inn, Las Cruces (we initially planned on driving to Alamogordo but didn't make it that far as it was getting dark and late, so we found a room here, which was super comfortable and nice)
Eat/Drink:
We simply went to a Sprouts (organic grocery store) and bought some vegan sandwiches and snacks for the road. Organic grocery stores are my number one address to look for vegan food while on the road in the US. Check out my blog post on how to find vegan food while traveling the US.
PART 6: Albuquerque
Leaving White Sands National Monument you'll be heading north to Albuquerque.
Distance: 224 miles ~ 3 1/2 hours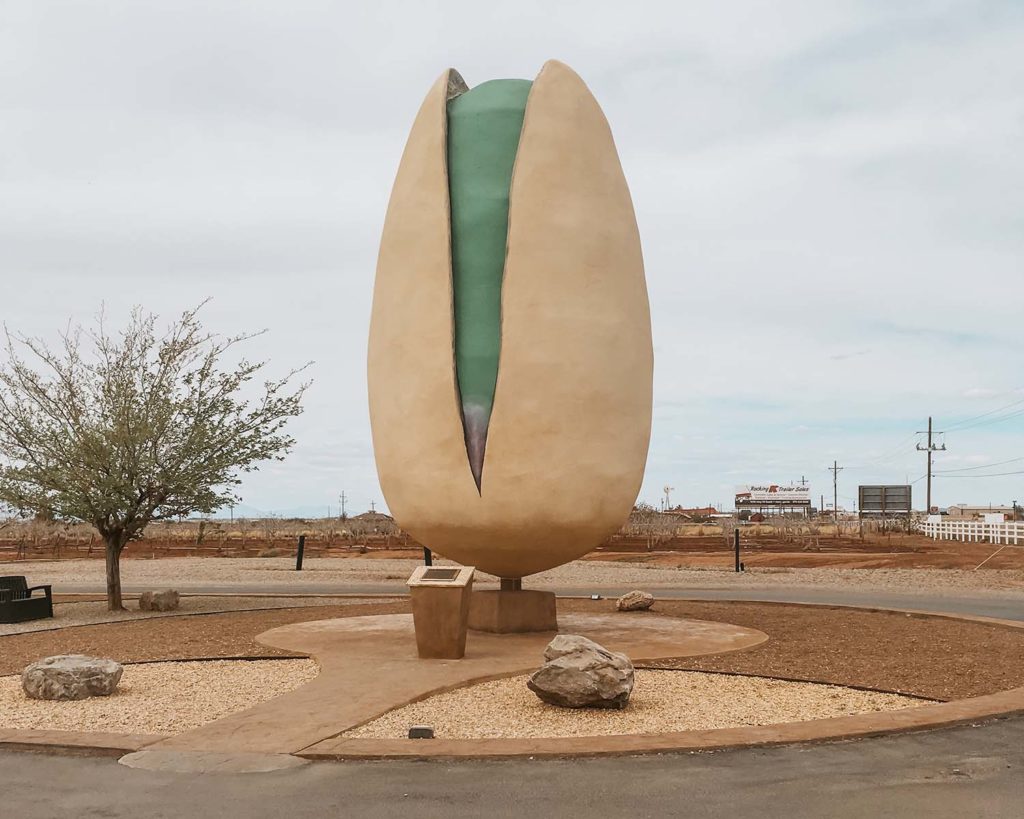 Tip: Once you leave White Sands National Monument make sure to stop by the PistachioLand in Alamogordo and grab a few bags of fresh pistachios. The giant Pistachio is a fun and not to miss roadside attraction.
We took Highway 54 up north and then switched on the 380 west. This way we passed the Valley of Fires, a recreation area adjacent to the Malpais Lava Flow. The stunning black rocks appear out of nowhere on the roadside. We just drove through that beautiful passage but if you find the time, take a while to explore one of the many hiking trails. I'm sure it's worth it.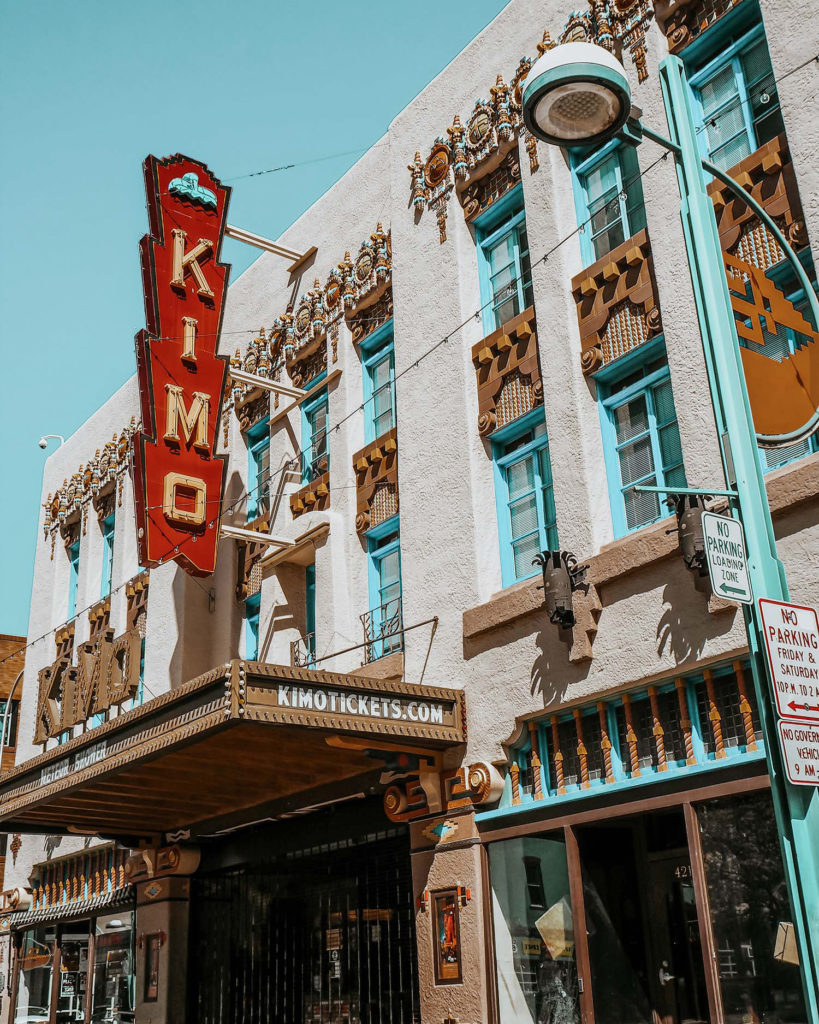 Our stay in Albuquerque was really just a quick pitstop and to spend the night.
We took some time to explore downtown and visited a few of the many Trading Posts selling beautiful Native American pottery, art and jewelry.
If you wanna add another stop to your road trip:
Remember the compromises I talked about earlier? I still kinda regret we didn't make it out to Santa Fe and Taos.
We initially planned on going there too, but time was just too short. So we had to ditch driving up there and enjoyed a few more hours in Albuquerque. We'll surely be going there next time.
Stay:
Baymont by Windham, Albuquerque
Eat/Drink:
Breakfast/Lunch – The Grove Cafe & Market (if you watched Breaking Bad, this place might look familiar 😉 It's pretty crowded on sundays though)
Explore:
Spur Line Supply Co.
New Mexico Museum of Natural History and Science
Old Town
Part 7: Flagstaff + Sedona
Today you'll be driving to Flagstaff. Then your trip continues to Sedona.
Distance: 323 miles ~ 4 1/2 hours (to Flagstaff) + 30 miles ~ 1 hour to Sedona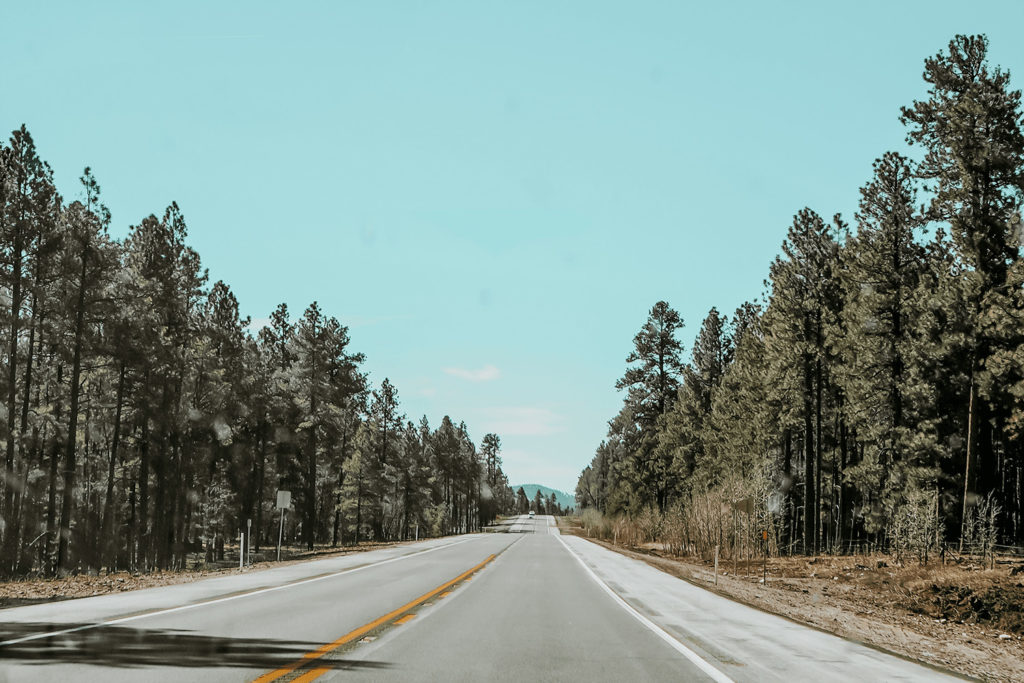 Leaving New Mexico and reentering Arizona you'll notice the landscape turning increasingly red and rocky again. I truly enjoyed this part of the road trip as it's always fascinating to observe this gradient change of scenery.
Flagstaff is a cute town surrounded by pine forests and snow covered mountains. It is considered the gateway to the Grand Canyon. If you've never been to the National Park, you should definitely consider to include this in your road trip and add a day or two to this itinerary.
Flagstaff is charming, and presents an entirely different world to all the desert cities we explored before. From here we went on the Highway 89A to Sedona. To tell it short: These 30 miles where the most stunning on this entire trip and amazed me even more than Sedona itself.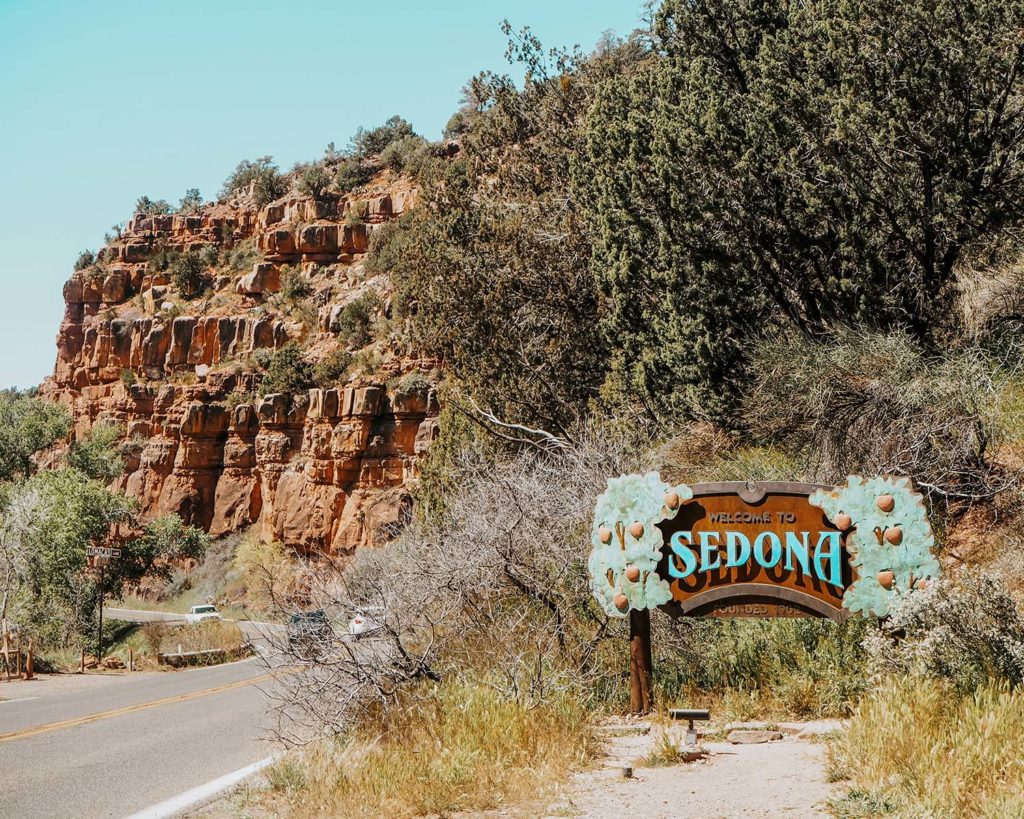 You can easily spend an entire day on this road through Oak Creek Canyon, stopping every few miles and exploring the many different sights along the road. Panoramic views of mountains, towering pine trees, natural springs and Sedona's famous red rocks. Switch on your favorite playlist and simply enjoy this scenic route.
Stay:
Comfort Inn, Flagstaff
Eat/Drink:
Breakfast/Lunch – Local Juicery, Flagstaff
Explore:
Cathedral Rock Trail, Sedona
PART 8: Joshua Tree + Joshua Tree National Park
The last stop on this road trip is Joshua Tree with a visit to the National Park.
Distance: 360 miles ~ 6 hours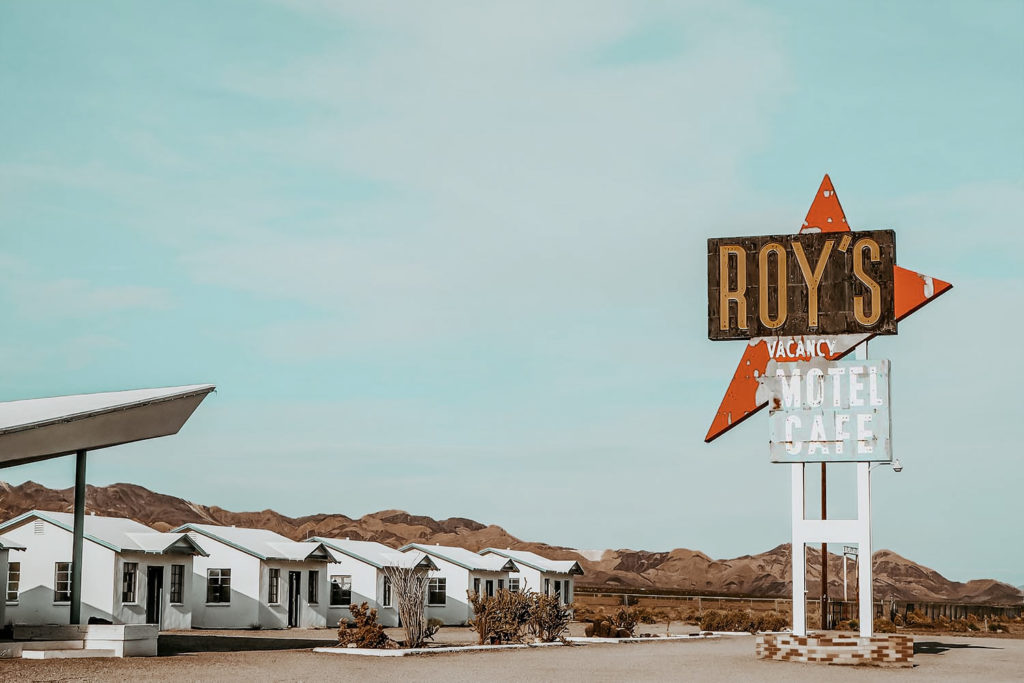 Tip: We chose to drive along I-40. That way we passed Amboy, a tiny town in the mojave desert, on our way to Joshua Tree. Stop by the iconic Roy's Motel and Cafe to take some pictures or simply enjoy the famous landmark.
Before returning back to LA we took some time to explore Joshua Tree. We've been there before for just a very short stay and loved it so much, that we had to return.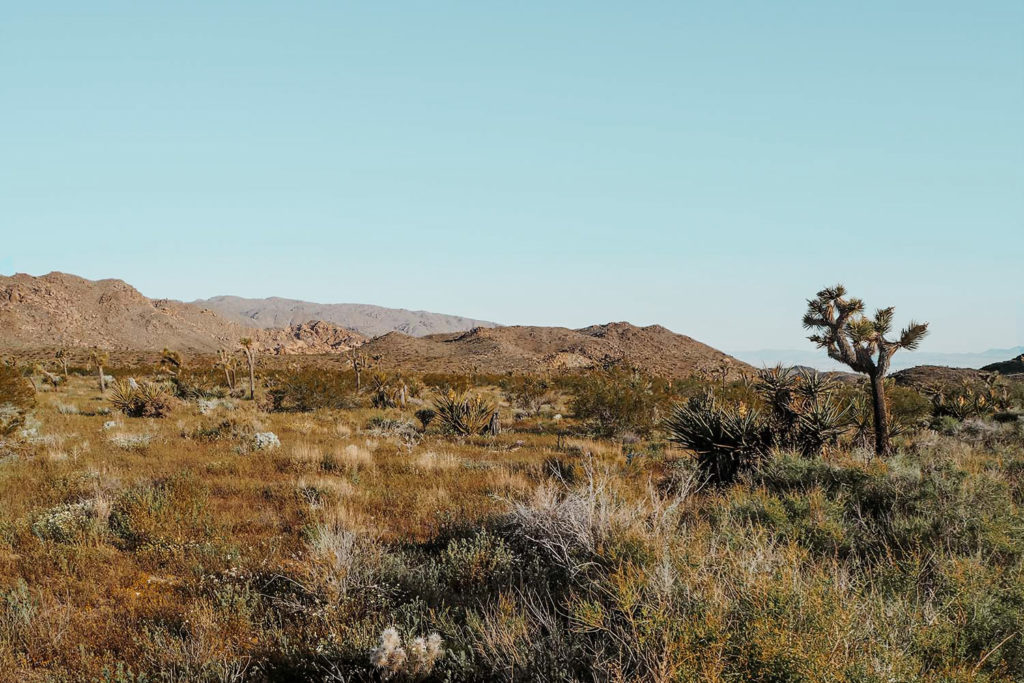 Joshua Tree is a quirky desert town and I am so drawn to its spirit and charm. So don't just focus your attention on the magical Joshua Tree National Park, although it's totally worth it, but spend some time around the artsy desert community as well. You'll find an entire travel guide here.
Stay:
Cactus Mountain, 29 Palms AirBnB
Saguaro Hideaway Guesthouse, Joshua Tree AirBnB
Eat/Drink:
Breakfast/Lunch – The Natural Sisters Cafe
Coffee – Joshua Tree Coffee Co.
Explore:
Noah Purifoy Desert Outdoor Museum
Cholla Cacuts Garden, Joshua Tree National Park
Pioneer Town
World Famous Crochet Museum
Safe Travels and enjoy your Southwest Road Trip!
I hope this itinerary inspires you to hit the road and explore the beautiful Southwest. Let me know if my tips are helpful or tell me about your recent road trip. What's your favorite route through the Southwest?