Broad blue skies, endless dusty roads, breathtakingly beautiful landscapes and a small quirky desert community you shouldn't miss out on. Joshua Tree is worth a visit for nature lovers and artsy bohemians alike. Find out where to stay, what to do and how to find vegan food and fancy vintage clothes in this conscious travel guide for visiting Joshua Tree.
There are many magical places all across the US but to me there's none like Joshua Tree. Considering all the time I spent in California I don't know how it took me so long to finally get to that cute community in the middle of the desert, a two hour's drive east of Los Angeles. Once I did though, it feels like part of me never really left again.
I highly recommend visiting both the Joshua Tree National Park and town itself. If you wonder where to comfortably stay, what to do, where to eat and shop, continue reading my slow travel guide for visiting Joshua Tree below.
1. When's the best time to visit Joshua Tree?
I'm a huge desert dweller at heart. So I'd never say no to a trip, no matter what time of the year it is. Given the extreme environment the desert presents, there are definitely more favorable times to travel than others. Here are my top 5 reasons to visit the desert in spring.
2. Where to stay in Joshua Tree
My first visit to Joshua Tree was back in 2017 and I spent quite some time scrolling through AirBnB, hunting for the perfect accommodation. As special as the place itself, you'll find a ton of stylish, cozy and unique vacation homes in Joshua Tree. One of the most popular probably is The Joshua Tree House. I've been following Sara and Rich's inspiring journey for quite some time, but unfortunately my travel schedule never seemed to fit their booking calendar. So I'm still looking forward to staying at their place one day. Since there's no shortage of pretty housing in Joshua Tree, I'll have two highly recommended places for you to enjoy your desert days.
The Saguaro Hideaway Guesthouse with its huge desert garden is a very unique and beautiful place. The days we spent in this lovely house in the middle of the desert were wonderful and a truly special experience. Sitting on 5 acres of open land with stunning desert and boulder views, located just a five minute drive to the National Park and another five minutes into town, the house is the perfect place for your desert getaway.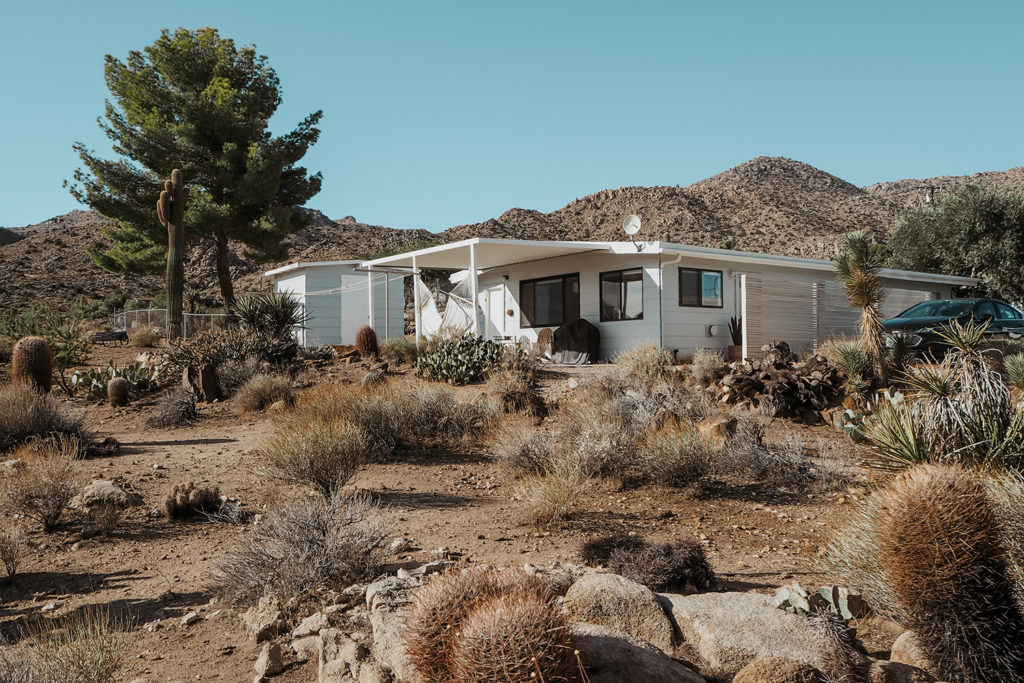 The house is thoughtfully furnished with stylish, yet super cozy interiors, covering everything you might need. The large windows facing east offer views of the most beautiful sunrises I've ever experienced. A stay at the Saguaro Hideaway Guesthouse might be a little pricey, it was one of the best AirBnB experiences I've ever had, so I highly recommend booking your stay.
Since there are so so many beautiful accommodations in the Joshua Tree area, we wanted to try out a different place for our second visit. Like I mentioned, I have this huge folder with my favorited Joshua Tree holiday homes and matching our itinerary with housing availability we chose Cactus Mountain and weren't disappointed.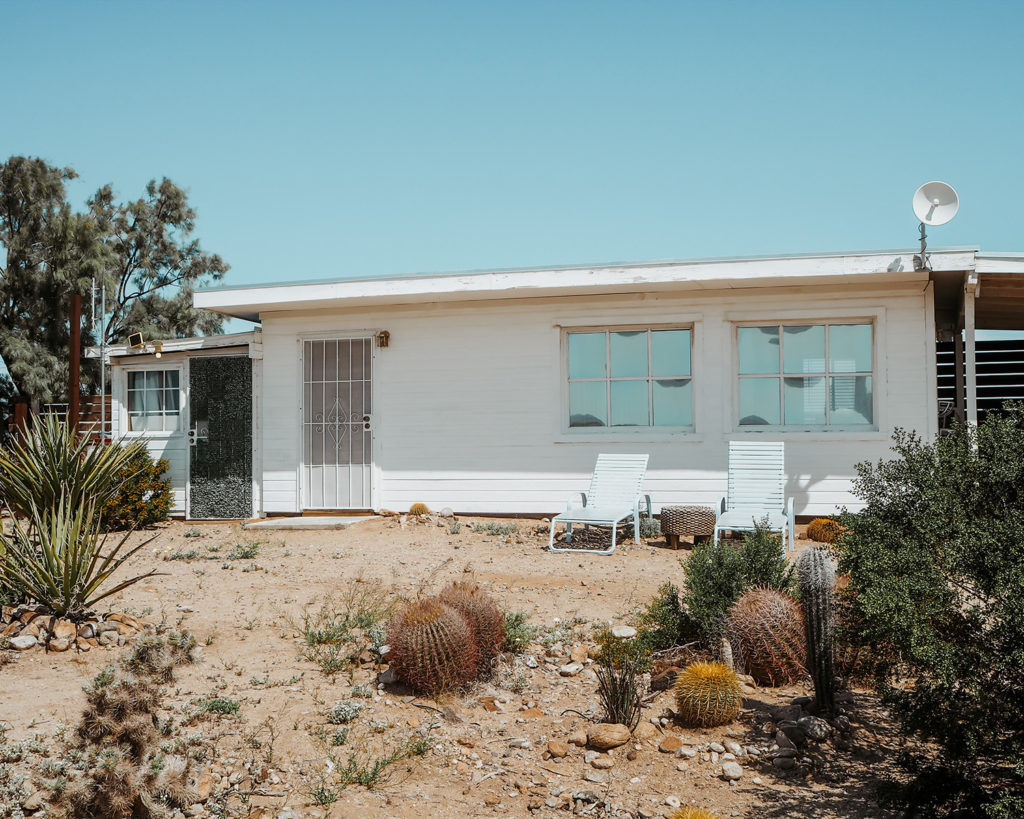 The cute tiny house is located in Twentynine Palms only a few miles from Joshua Tree and a 15 minutes drive to either the north or west entrances of the National Park.
The 2.5 arces garden area with a cozy outdoor living room is offering beautiful views of the sand-colored granite rocks of Indian Cove. Thanks to the fully equipped kitchen we enjoyed some homecooked meals and extensive breakfasts in the pretty desert garden, surrounded by jackrabbits and hummingbirds. If you want to experience the desert in full bloom, you should definitely visit in spring!
3. Things to do in Joshua Tree
Time flies and simultaneously stands still once you've entered the park and get lost around majestic trees, strange rock formations and perhaps the cutest cacti on earth. There's something magic about Joshua Tree National Park and I am completely drawn to this place. It took me quite long to pay attention to the park that stretches from the Mojave to the Sonoran desert. Two entirely different eco systems with so much beauty to discover, I'm definitely devoting a separate post including all the details.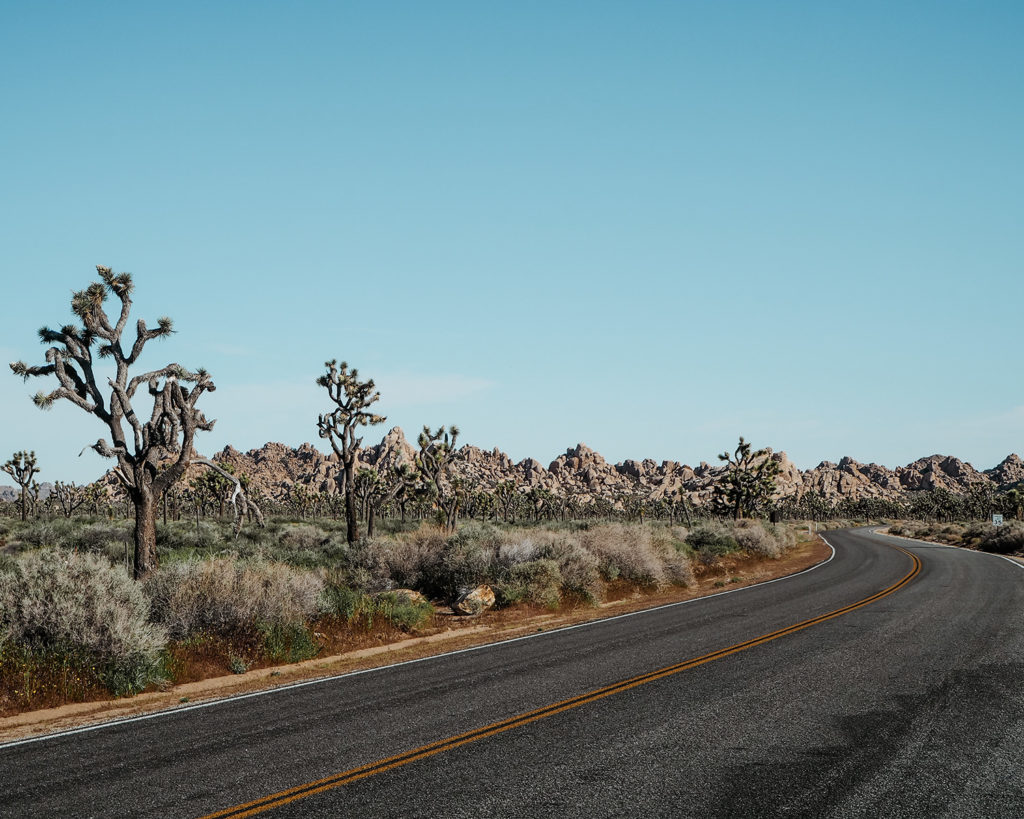 The park is the perfect destination for nature lovers, hikers, camper and of course (hobby) photographers. You can easily spend a week in the park and probably still have a lot to discover. One of my highlights is the Cholla Cactus Garden with hundreds of appearing to be soft and cuddly "Teddy Bear" Cacti. They obviously actually aren't cuddly at all. In fact they are incredibly sharp and dangerous, as the joints of this cholla easily detach and grab onto skin. So beware.
Beyond the seemingly supernatural landscapes of the National Park the artistic spirit of the small town presents itself. In Joshua Tree hip cafés meet bars, resembling old-school western saloons. Funky stores invite you to rummage in all kinds of curiosities, edgy vintage fashion and trendy interior design. With a little extra time on your hands, right in the middle of the desert, you can even discover original art.
Born in Snow Hill, Alabama in 1917, artist Noah Purifoy lived and worked most of his life in California. He created the Outdoor Desert Art Museum of Assemblage Sculpture in Joshua Tree entirely out of collected debris. Wandering around the 10 acres full of odd sculptures embedded in the high desert landscape is an amazing experience.
The Noah Purifoy Foundation is doing a great job in preserving the art and maintaining the exhibition as a permanent cultural center open to the public. Entrance is free but make sure to spend some dollars to support the Foundation's work.
Even if you have only a little time on your hands, make sure to stop by this quirky place. The Crochet Museum by Shari Elf is always open to welcome visitors. The place is tiny but make sure to check out all the other art installations you'll find on the yard. It's a weirdly inspiring place that will certainly make you smile more than just once. It's a must visit while you're on your way to the Joshua Tree National Park.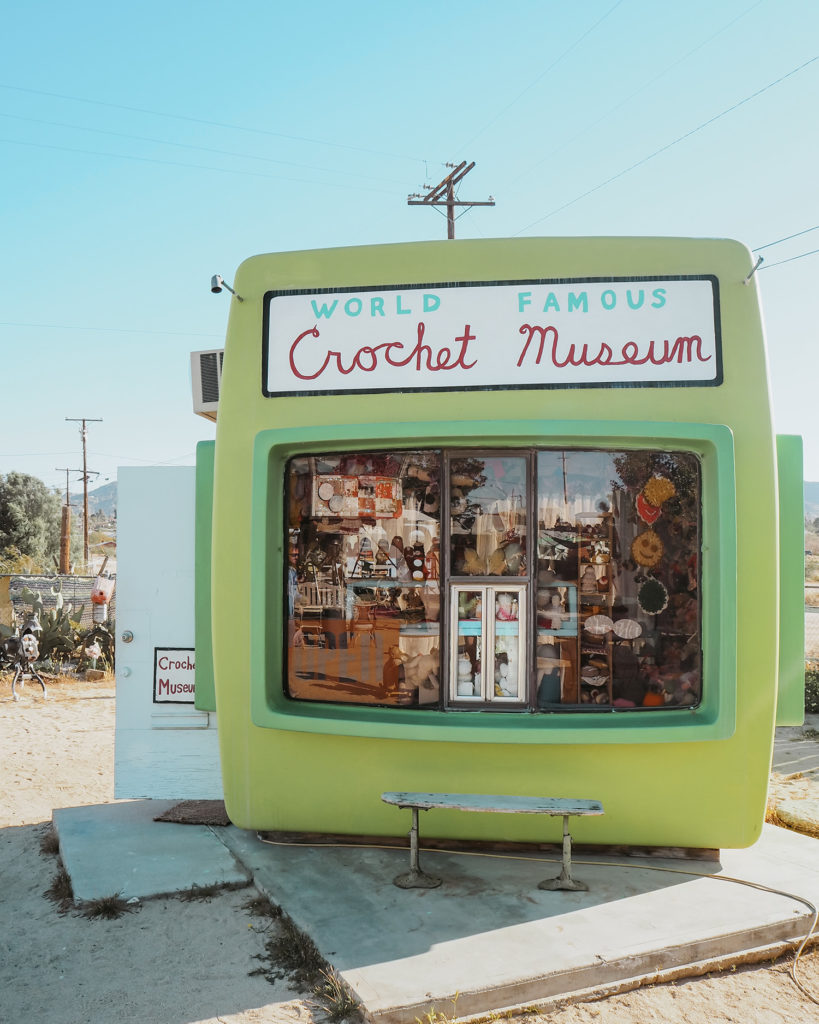 ENJOY A DESERT SUNRISE / SUNSET
I'm definitely not a morning person but getting up at 4am just before the sun rises wasn't even a struggle in the desert. We didn't have to drive into the park, as the huge garden area at the Saguaro Hideaway offered spectacular views of the rising sun. There is a special magic to sunrises in the desert.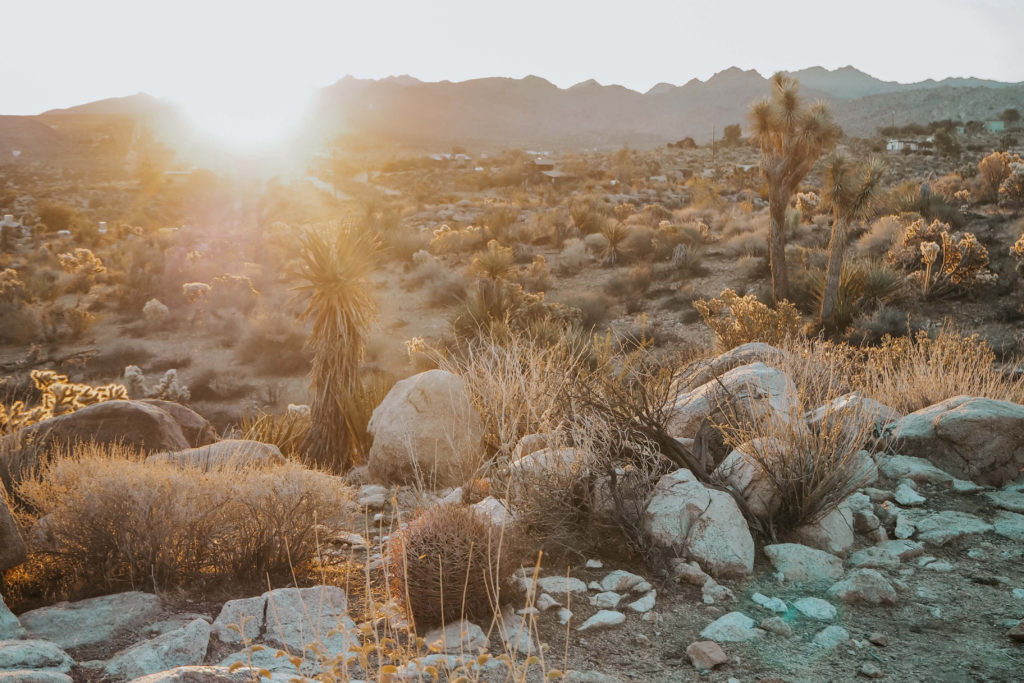 Once the sun climbs up the sky, the crisp night air fades little by little, soaking the desert in a special orange light. If you're camping in the National Park or staying in a cozy AirBnB – don't miss out on the beautiful desert sunsets with its spectacular starry skies.
4. Where to find vegan food and drinks in Joshua Tree
Although you're in the middle of the desert you don't have to miss out on great and even vegan food. This wouldn't be a proper conscious travel guide without mentioning places where you can find plant-based food in Joshua Tree. The Natural Sisters Cafe is a small Deli you'll pass by on your way to the National Park entrance. They offer a great selection of organic food with many vegan choices, all kinds of fresh juices, smoothies and desserts. Don't leave without one of the yummy muffins!!
Maybe easy to overlook from the outside, Crossroads Cafe is a great place for an extensive breakast an delicious meals. No matter if you choose breakfast, lunch or dinner you can easily make your meal vegan. Instead of scrambled eggs you'll get tofu, make your burger vegan by choosing a grilled seitan pattie or try the vegan quesadilla. Since the food is delicious the place might be pretty crowded though.
If you're a coffee addict and appreciate high quality, this place is a must-visit. The organic coffee is excellent and you should definitely try their cold-brew. We bought some of their beans to take home with us as souvenirs for friends and for ourselves to enjoy. I could definitely use some fresh supplies.
5. Conscious Shopping while visiting Joshua Tree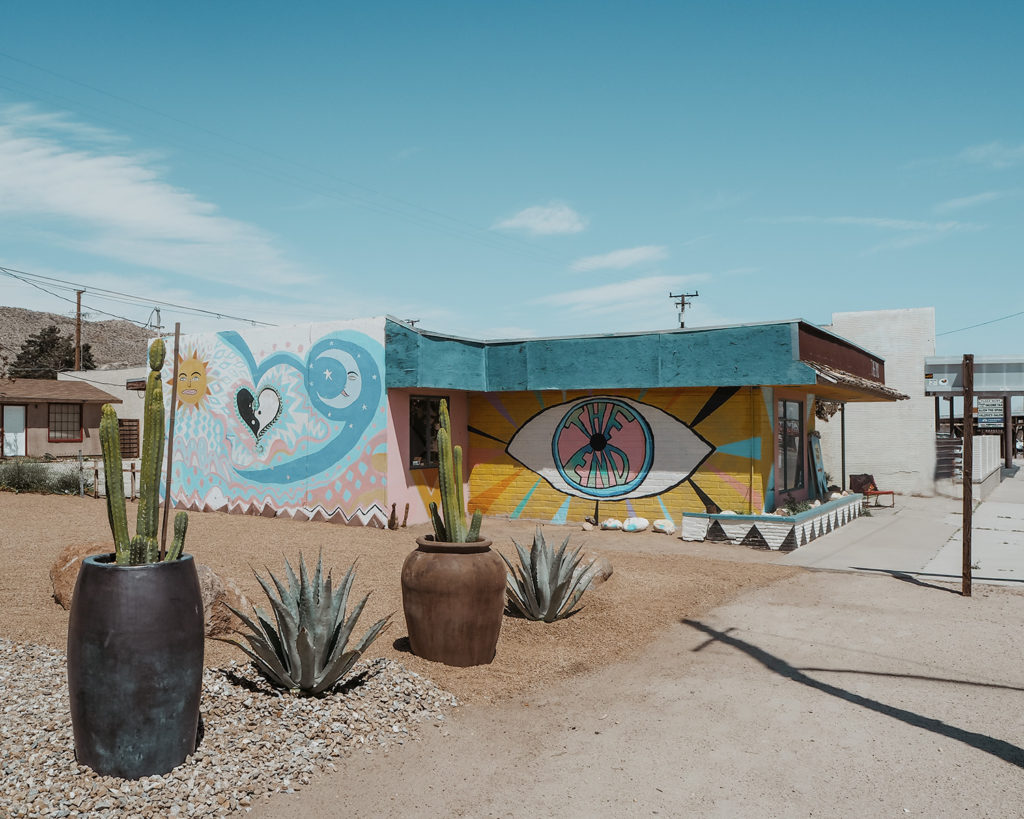 The store is actually located in Yucca Valley, a few miles from Joshua Tree. If you love vintage fashion you should make sure to visit this place. The owner and staff are super friendly and helpful and it's easy to find many cute and unique pieces. With its fancy, colorful painted exterior the shop is hard to miss and definitely fun to look at.
Visiting Joshua Tree for the first time, we passed by this cute shop located in Morongo Valley. The "Dig your own Cactus" sign immediately caught my attention and of course we had to stop!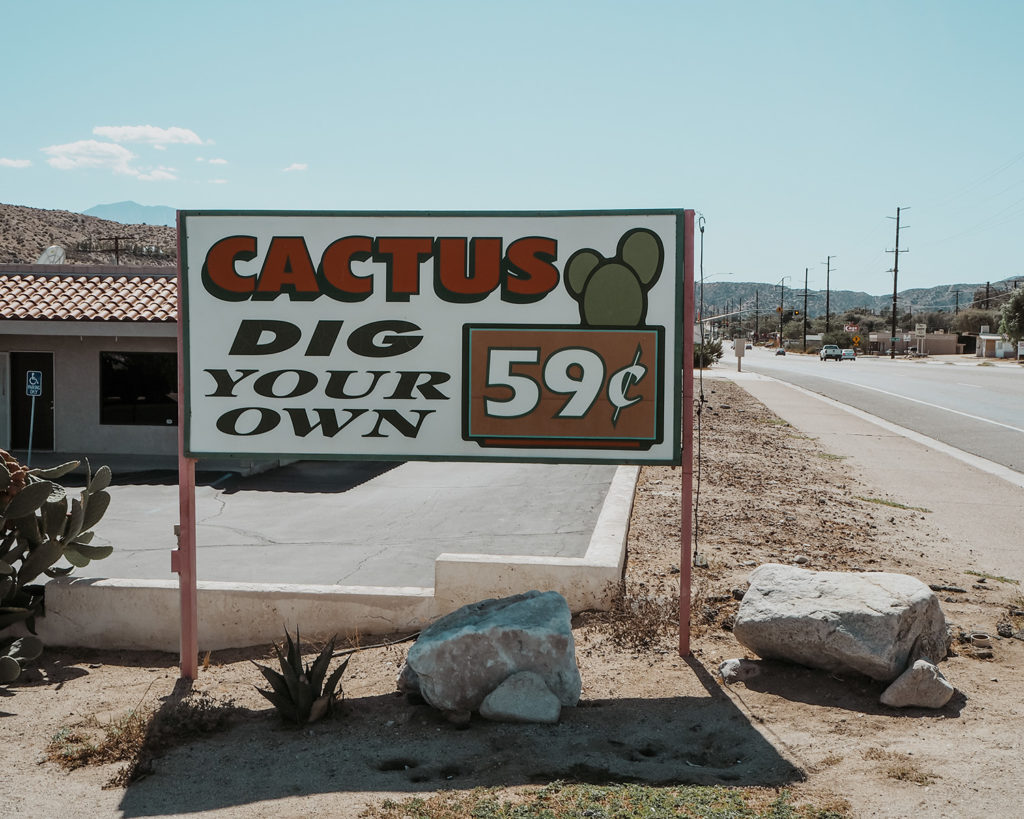 The Cactus Mart is such a fun place to visit. Digging my own baby cacti became some kind of tradition whenever we are in the area. The first ones I brought home didn't like the journey I guess. But, the two cacti we took with us last time are still happily growing on my window sill.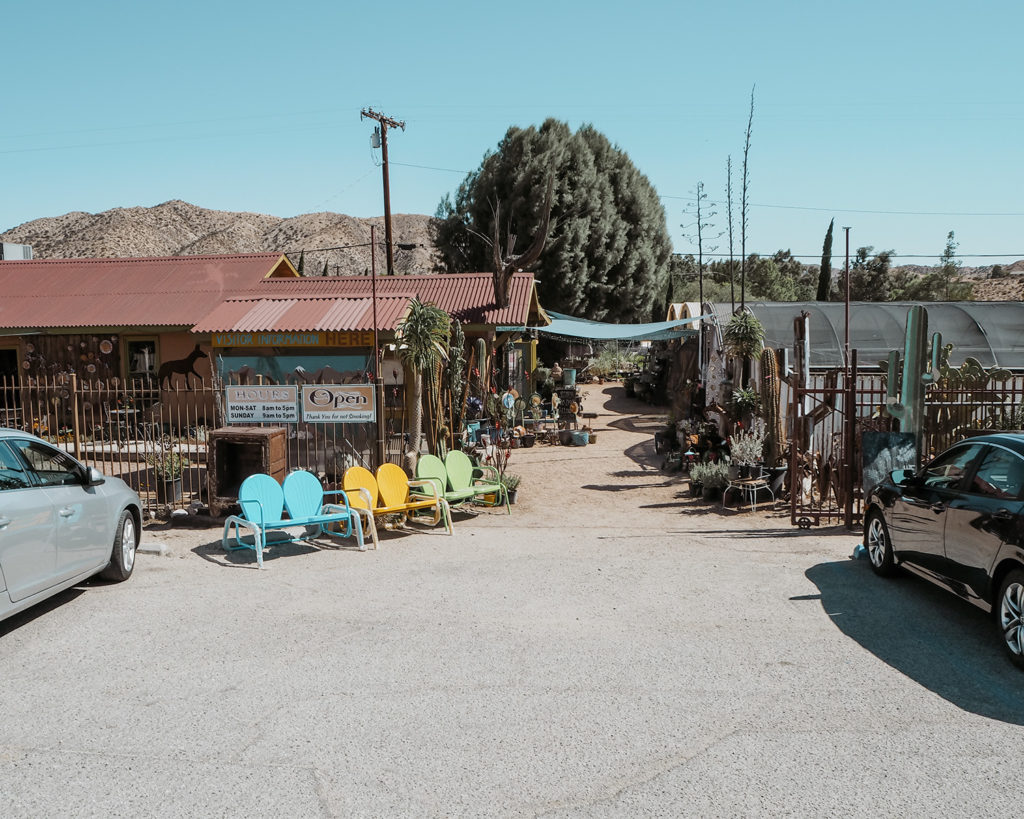 Might be for the best that it's not possible to transport huge cacti in a carry-on. Otherwise I'd spent all my money at this place. Roaming around the property is fun anyways with all those amazing plants to admire while encountering friendly cats and even chicken strolling around the grounds.
I hope you enjoyed my conscious travel guide to Joshua Tree. I could add many more things that make this place so special to me, but it would go way beyond the scope of this article. There might be a "Part II" though eventually. 😉
Have you ever been to Joshua Tree? What's your favorite thing to do whenever you're in the area?