Southern California is popular for its beachy lifestyle and laid-back vibes. Driving down the coastline one pretty beach town follows another. Choosing the right destination for the perfect day at the beach can be quite challenging. So, let's take a closer look at the most beautiful beaches in Southern California and find out which one meets all your needs.
Coronado Beach
Just a couple miles outside downtown San Diego and a scenic drive down Coronado Island Bay Bridge, pure white sandy beaches are waiting for you. The island is a popular resort, famous for its 1880 built, iconic Hotel del Coronado.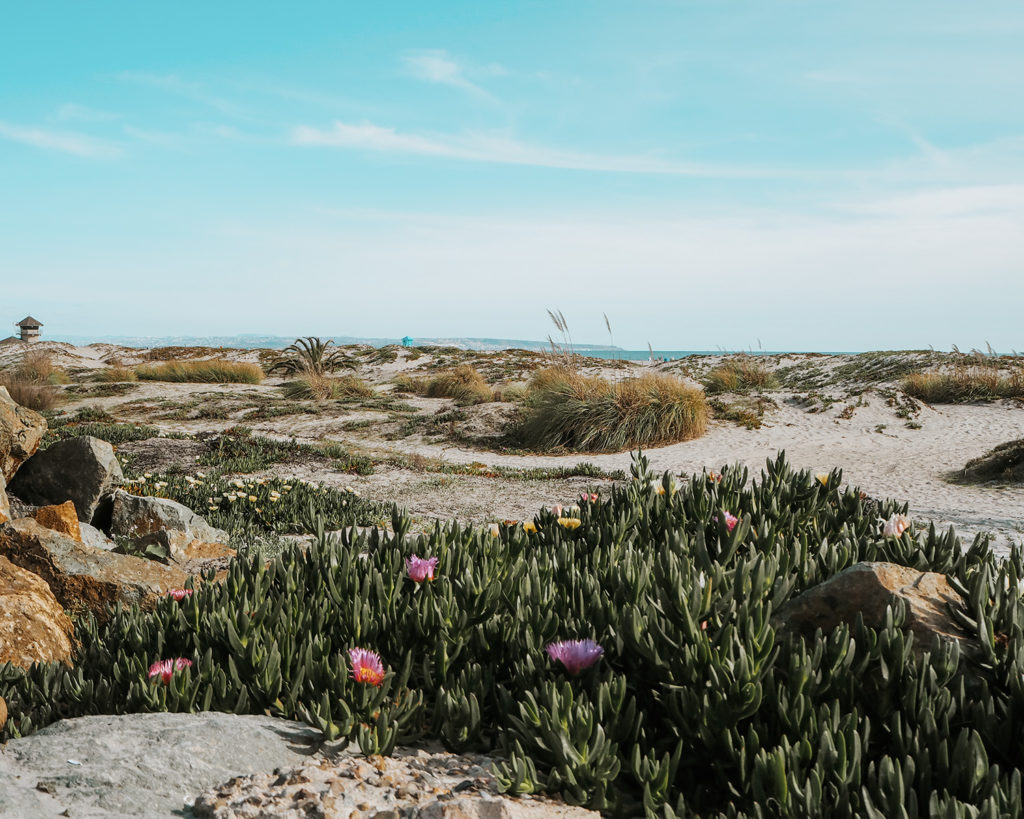 What to expect: Coronado beaches calm ocean waters and clean, soft sand make it a perfect destination for families with (small) children. There are many fun activities like paddleboarding, fishing and you can even take surfing lessons. Rent a bike and discover the island with its elegant mansions and impressive beachfront gardens. Make sure to stay until it's dark to enjoy the magnificent skyline views of San Diego. Especially on weekends and around rush-hour the Bay Bridge from San Diego to Coronado is crowded. So, make sure to go early and avoid these busy times.
Perfect for: Families with small children, beach activities and architecture enthusiasts
2. La Jolla Cove
Its idyllic location and picturesque cliffs definitely turn La Jolla Cove into one of the most beautiful beaches in Southern California. Even though it is one of the smaller beaches, there's lots of nature's beauty to discover.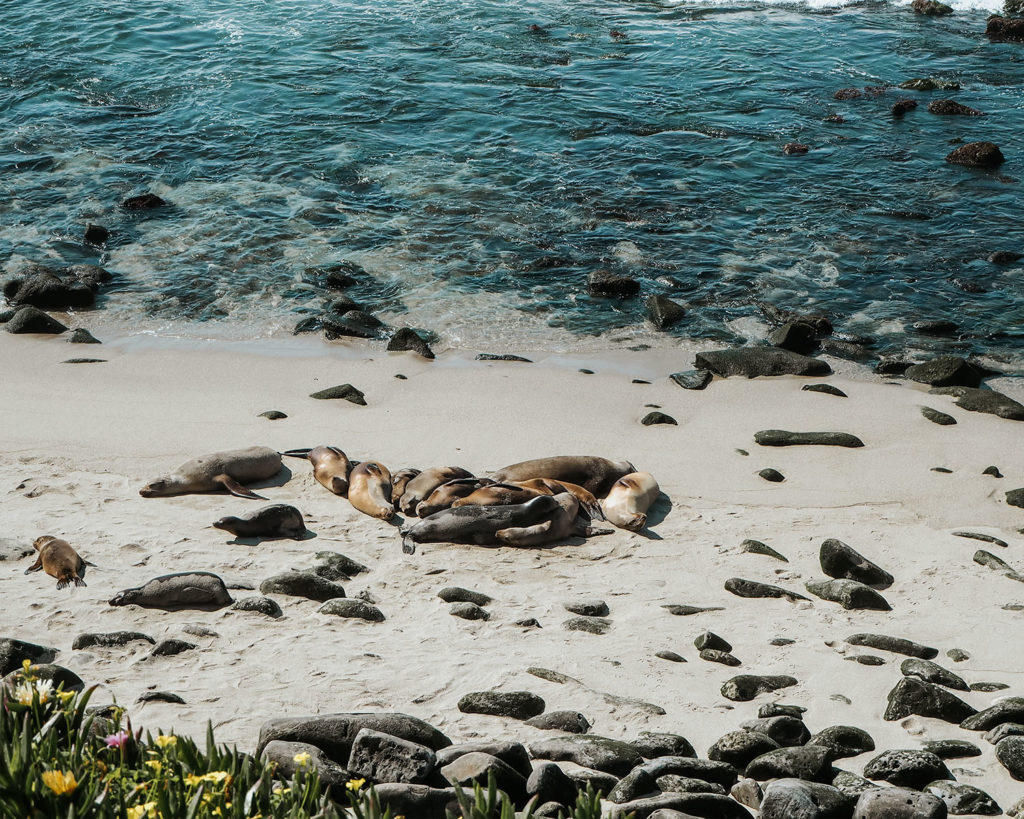 What to expect: The small coastal inlet is home to a variety of marine life. Particularly Sea Lions love to hang out in the sun, sleeping on rocks and sand. Keep in mind that the water is rather cold and the waves are usually quite strong. So swimming far off the beach is only recommended for experienced swimmers.
Perfect for: Animal lovers, Scuba diving and snorkeling
3. Laguna Beach
Laguna Beach is a beautiful, vibrant beach town located between San Diego and Los Angeles. It is the perfect destination for a day full of sunshine, arts and nature.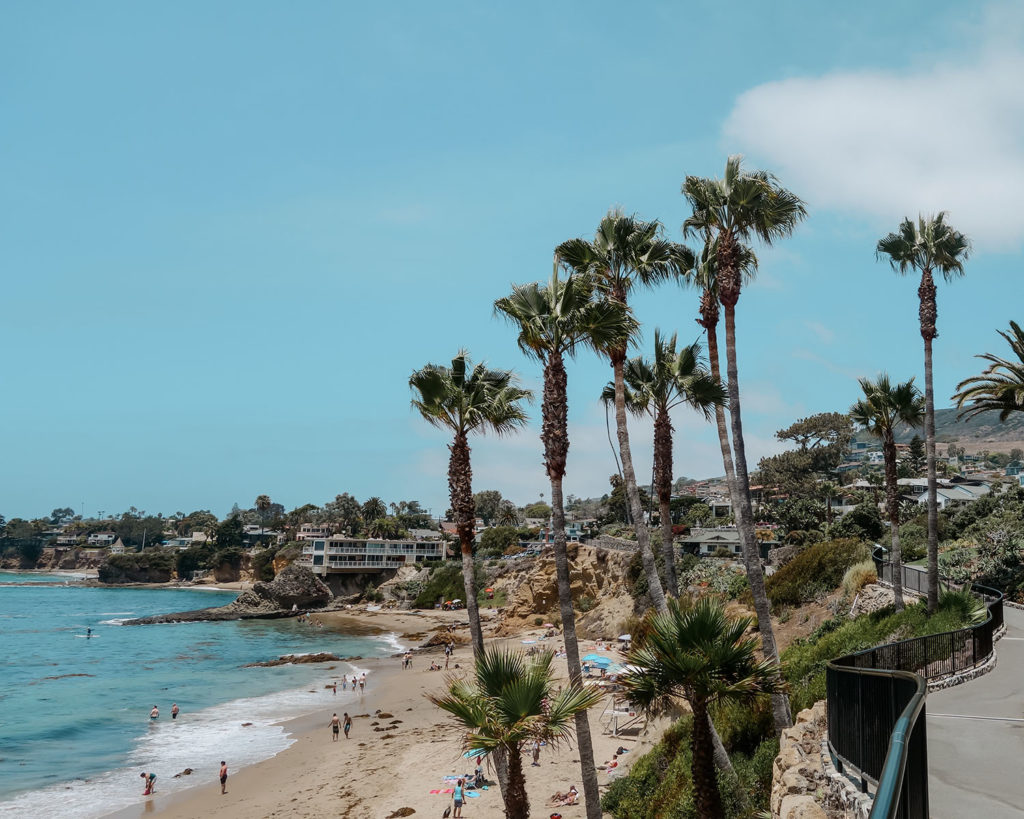 What to expect: There isn't just one beach worth visiting in Laguna. My advice is to just go for the Main Beach and the whole area around Heisler Park. Main Beach and the few other smaller coves lie in front of stunning cliffs covered in plants and palm trees. There's lots of stuff to see and do. Playgrounds, volleyball fields, food and cafes and last but not least, Heisler Park, sitting just on top of the cliffs. Enjoy the colorful blooming flowers and mesmerizing views of the ocean. Once you're tired of the beach, make sure to check out a few of the many art galleries to get your creative fix.
Perfect for: Plant Friends and Art Lovers
4. Newport Beach
For everyone growing up obsessively watching "The OC", Newport Beach must sound familiar. It is a charming yet luxurious coastal town, less than 50 miles south of Los Angeles.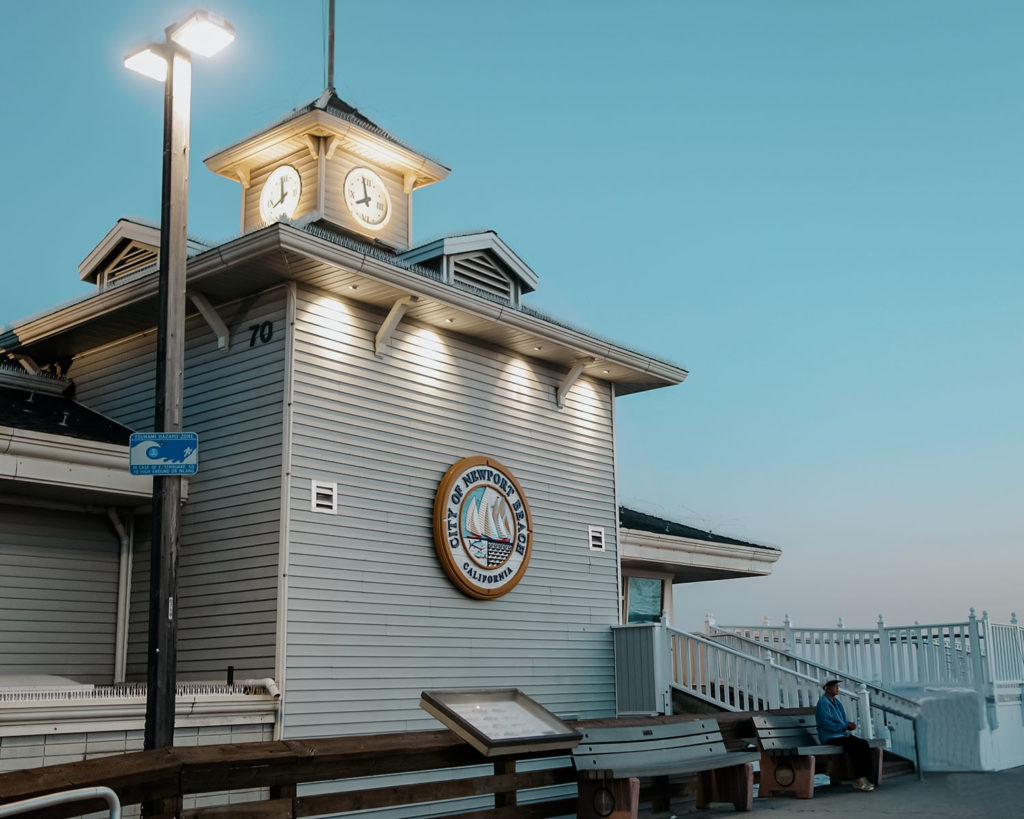 What to expect: A five-mile-long stretch of shore. A huge harbor filled with impressive yachts and two piers that offer incredible ocean views and fun attractions. Just enjoy some sunbathing at the beach or take a walk along the boardwalk to take a look at the many beautiful beachfront (summer)houses.
Perfect for: "The OC"-Revivals (even though the show was set in Newport, it wasn't actually filmed here) and a fun day at the Pier, sunbathing and swimming in the ocean
5. Venice Beach
From endless sunshine and sand, to quirky street art(ists), talented skaters and lots of muscles in Muscle Beach – Venice Beach is way more than just a beach, it is a cultural hub.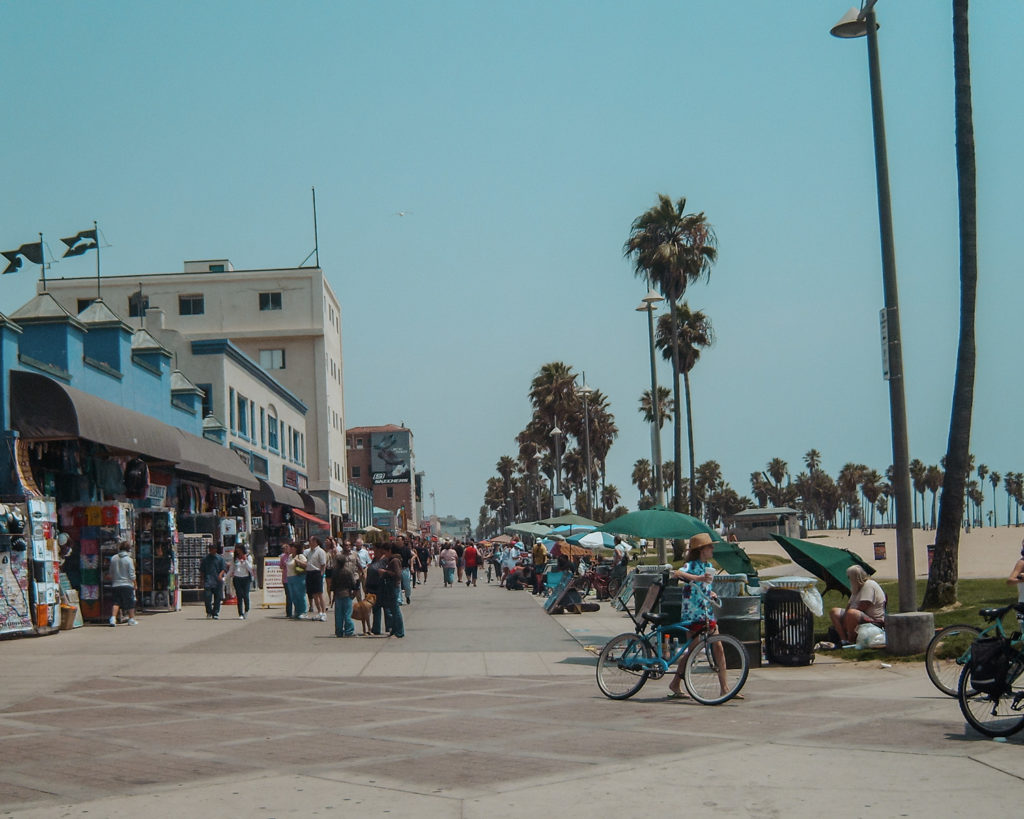 What to expect: Venice Beach's unique culture attracts millions of visitors. Hence the beach and surrounding area are pretty busy all year around. This is definitely part of the experience though. So just enjoy the local street musicians, stroll along the boardwalk to take a look at the impressive murals or get active and join in on some weightlifting.
Perfect for: Basically everyone who's open-minded, looking for some inspiration and not shying away from crowds (or hipsters 😉)
6. Santa Monica Beach
When sunny beach vibes meet arcade games and theme park fun, you'll find yourself at one of the most popular beaches in California. The cute ferris wheel on the Pier of Santa Monica Beach is a pretty iconic image, and for good reason.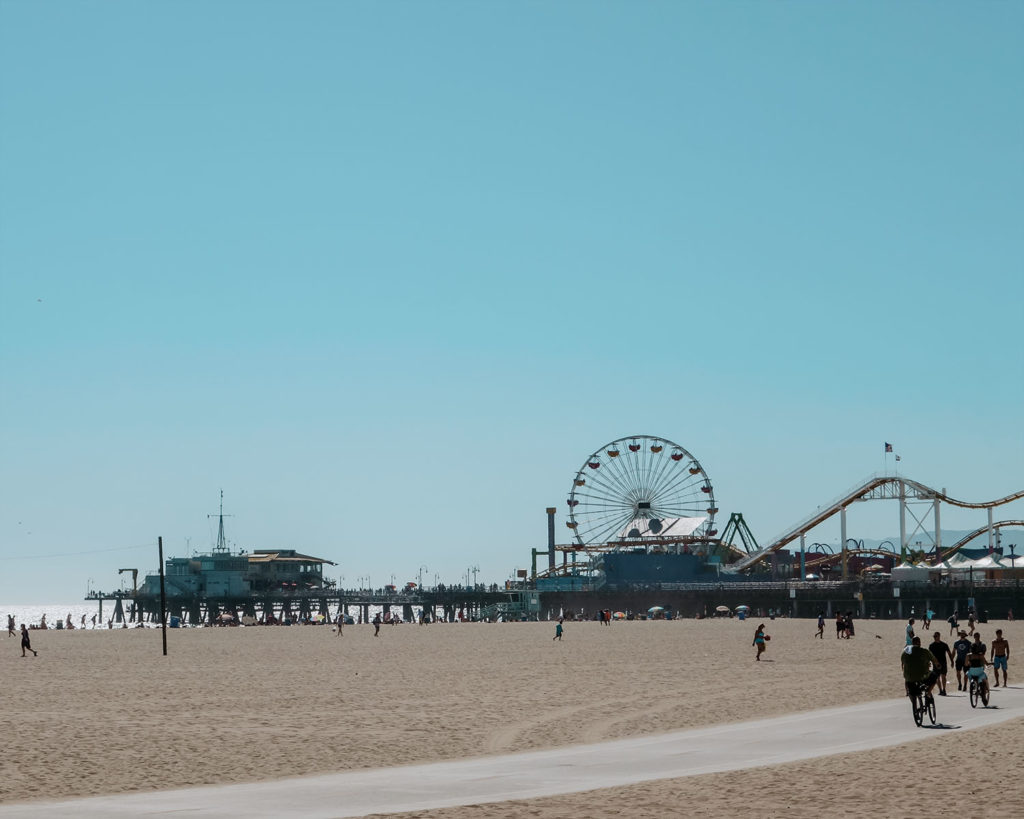 What to expect: Not too far from busy downtown LA, Santa Monica Beach is a great spot for a quick dip into the ocean and relaxing in the sun. If you're looking for a little action though check out the Pier, take a ride on the famous ferris wheel or enter "Playland Arcade" to compete in an air hockey match. Don't miss the sunset behind the Pier!
Perfect for: Families, children and everyone who's looking to combine a day at the beach with some fun activities. And in case you're just there to chill by the beach, don't worry: It's usually not as crowded as the Pier.
7. Point Dume
It is rather impossible to list the most beautiful beaches in Southern California without even mentioning Malibu, as it embodies the Californian lifestyle. And, it really is as beautiful as everyone is gushing over. Sprawling cliffs and stunning views of the coastline – Point Dume and its surrounding landscape are breathtakingly beautiful.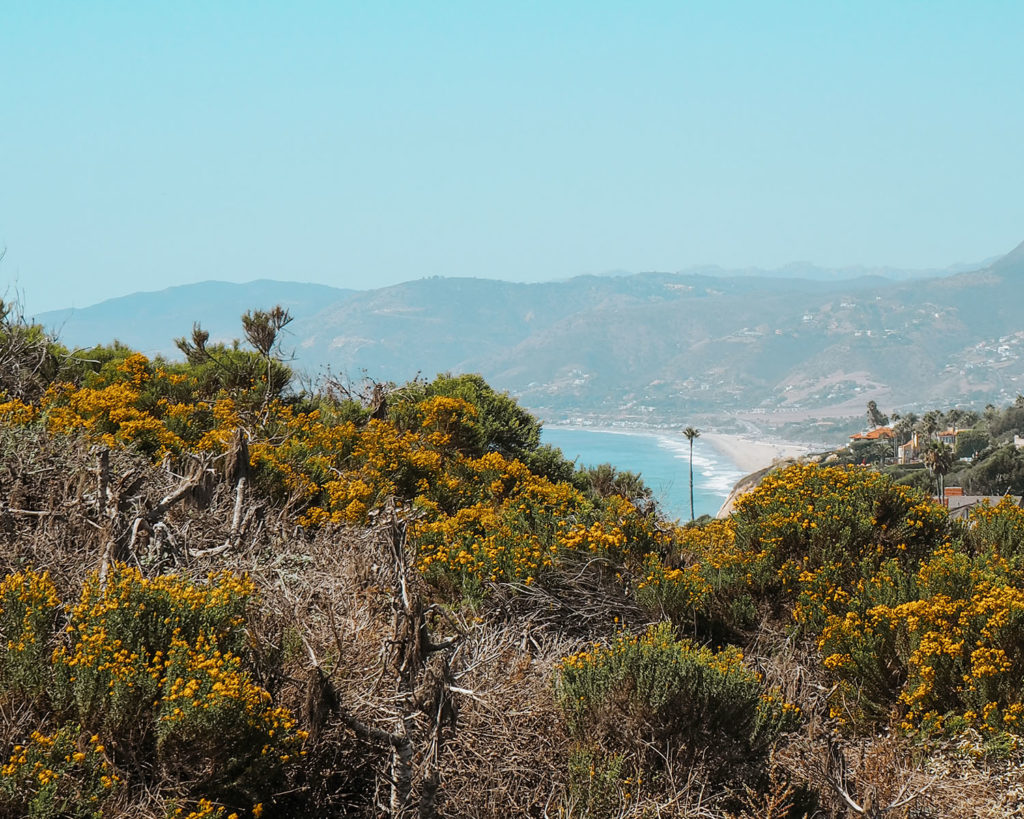 What to expect: The crescent-shaped cove with its sandy beach on one and cliff line on the other side is a real gem. Just sit on the beach and watch dolphins (or even whales) swim in the ocean or get active at some rock climbing (if you're experienced).
Perfect for: Hiking, as the 1.4-mile trail is perfect for simply everyone. It takes approximately an hour and the views are amazing!
And in case you ever get tired of the beach, check out my top 5 must-visit National Parks in the Southwest.